Nutrition Lesson: Wolf Den
On Wednesday, I was invited to teach a group of 8 year old boys about nutrition. The Wolf Den my friend is the leader of was passing off Achievement 8 in the Cub Scout Wolf Handbook. I always get excited to have a captive audience of children to talk to about nutrition… OK, they might not exactly be "captive", but they are fun. Here was our lesson outline if you want to have the same discussions with your children, or with your cub scout troop.
Food Groups
First we talked about the 5 food groups. I gave them each a blank copy of the new Food Plate, and we went through each food group and I asked what foods they know belong in that specific group, and what their favorite food from each group was.
So we looked first at fruits. The came up with bananas, strawberries, apples, grapes, etc. I told them they needed 1-2 cups of fruits per day, and fruit was important because it gave us vitamins and minerals necessary to fight bugs, grow cells, and move blood through our bodies.
Second I had them find the vegetable section. I asked their favorite vegetables, and told them they needed 1-2 cups of vegetables every day to fight cancer, prevent nutrient deficiencies, and have all our organs function properly.
Third, we looked at the grains portion. We need 5 ounces (or slices) of grains per day for energy! Without grains, we would be sluggish. Then we talked about getting a variety of grains, not just 5 slices of bread, but also rice, pasta, oatmeal, wheat, corn, etc. Then I asked each one what their favorite was.
Fourth, we looked at protein. Protein is vital to build muscle! We need 3-5 ounces of protein per day. Some of their favorite sources was eggs, chicken, nuts, and beans.
Fifth, we looked at dairy. Kids their age need three cups of dairy per day. Dairy is important for building strong bones, something that is vital at their age! Their favorite dairy sources were milk, cheese, and yogurt.
Meal Planning
Then I helped them to understand that we need all 5 food groups each day, because they each have a different purpose. So, I had them design a meal plan for one day, using the template below. Breakfast, lunch, snack, and dinner. They had to have at least 3 food groups in each meal. I helped them by saying, "Now what would be a good grain to eat at breakfast time? Does anyone eat oatmeal, or cereal, etc." I also showed them how a sandwich at lunch could possibly have many food groups in one sandwich.
Fix a meal
The next requirement in their book says they should prepare a meal for their family. With their meal plan, they told me which meal they were going to cook for their family. I then encouraged them to go home and let their parents know the plan, and report back next week.
Fix your own meal
Last, I had them prepare a snack. I brought out Graham crackers, cream cheese, strawberries, kiwi, and apricots, and had them tell me which food group each item came from. Then we prepared the stoplight snack I shared on yesterdays post.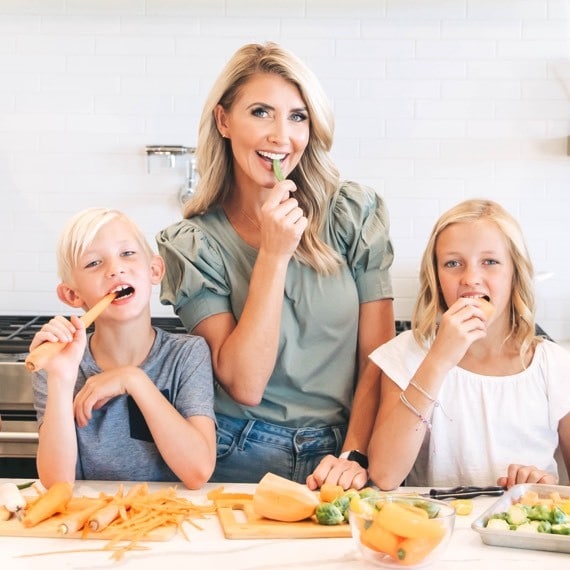 Natalie Monson
I'm a registered dietitian, mom of 4, avid lover of food and strong promoter of healthy habits. Here you will find lots of delicious recipes full of fruits and veggies, tips for getting your kids to eat better and become intuitive eaters and lots of resources for feeding your family.
Learn More about Natalie