No-Cook Meals You Can Feel Good About
When I talk with moms about cooking, most of them say that they want to prepare healthier meals, but they're stuck in a rut because they're short on time. It takes time to research new recipes. It takes time to shop, prep, and cook – and then, even after the legwork is done, there's no guarantee that anyone will even like the end result! Coming up with nourishing, smart choices that are kid friendly can feel like a real uphill battle, and all too often it's easier to roll through the drive-thru, pour that bowl of cereal, or order an extra large pizza – because it's easy. And fast. And they'll eat it.
I get it. We have four kids, and it wasn't until one of our children went into anaphylaxis at the age of 10 months that we had to really get serious about changing what we ate. Our son's milk allergy diagnosis meant that I had to start reading every label. Restaurants were suddenly out of the picture. Processed foods were off the table. I had to learn to cook – and fast.
I can clearly recall the earliest days of my "have-to-learn-to-cook" adventure. I remember walking the grocery aisles on the brink of tears because I was so overwhelmed by all that I didn't know. Every recipe in my repertoire involved either a processed mix, a can of soup, a seasoning packet, a cup of milk, or some other derivation of milk (like sour cream or cheese). Even our grab-and-go snacks were off limits. I needed to make changes for my family, but I didn't know how to make it happen.
With every trip to the grocery store, though, I learned a little bit more. More about food, about how it's made, where it comes from, what it contains, and what those long ingredient names mean. Before long, I had amassed a sizable list of kid-friendly, minimally processed, nutritionally dense snacks and meals that our whole family would eat. It was a major victory for me!
Yet while I had discovered a newfound passion for food and cooking, I also live in the real world. It was unrealistic to think I'd always have time to cook a big meal, so I set out to find no-cook dinner solutions to pull out on busy weeknights. They're not the sorts of meals I'd prepare if company were coming, but when soccer practice runs until dark and there's still homework to be done, these options work.
Today I'm sharing that go-to list of grocery store finds in case you're like me and need an occasional no-cook meal. Do you have meals like this that work? We'd love to learn from you! Tell us about them in the comments below. (And P.S. I have not been compensated in any way to share these products with you.)
Aidell's Organic Chicken & Apple Sausage
Dice, sauté, and fold the sausage into a bowl of Seeds of Change Quinoa & Brown Rice. Serve with a side of pineapple or other family-favorite fruit.
Chop the sausage and add it to scrambled eggs. Serve with a bowl of oatmeal topped with blueberries.
Prepare 100 Days of Real Food's Vegetable Chili, adding the sausage in the final step.
2. Steamfresh Veggies (particularly the green beans and the sugar snap peas). These beauties cook in 5 minutes and they're often on sale. Steamer bags like this make it easy to ensure we have a green vegetable with dinner.
3. Seeds of Change Rice. We're not big rice eaters, but these packets are handy in a pinch. The flavor of the Caribbean Style rice pairs nicely with a few links of diced Aidell's Andouille Sausage.
4. Alexia Organic Oven Crinkles. Kids love fries, and these are a winner. Alexia also makes waffle fries and sweet potato fries, both of which are perfect with Applegate's Great Organic Uncured Beef Hot Dog (6) – or Organic Chicken Strips (7)! Add a sliced apple or some raw broccoli and you're set. Hello, kid food!
5. Newman's Own Organic Marinara. While it contains a few more grams of sugar than I'd prefer, I still love this particular jarred sauce for two reasons: 1) it tastes like my mom's sauce, and 2) it's affordable. There are several other sauces I like (including Amy's Family Style Marinara), but this one is easy to find and works within a tight budget. Cook up some whole wheat pasta (fusilli is our favorite because it holds the sauce nicely), sauté a pound of grass fed beef, mix it all together, and dinner is ready.
Let's not forget about breakfast!
1. Van's 8
2. Pete and Gerry's Organic Eggs. We eat a lot of eggs, and this is one of my favorite brands. I used to think that all eggs were created equally, but I've learned that there's actually quite a difference! I buy these cage-free organic eggs at my local BJ's Warehouse. The kids eat them scrambled, I like them hard boiled, and my husband mixes them with creole season and andouille sausage. Our egg pan gets a workout almost every morning!
3. Jones Farm Sausage. While it's not organic, it is free of nitrates, nitrites, and MSG – and that's a really great start when you're trying to make small changes toward healthier eating.
4. Barney Butter! We added almond butter to our pantry for a variety or reasons, namely its nutritional value. Barney Butter has a smooth texture and is made without added sugar. My favorite way to serve it is on toasted Ezekiel Cinnamon Raisin bread (6), but it's equally delicious paired with celery and raisins to make ants on a log.
5. Larabars are known for their simple, quality ingredients and great taste. The bars come in 21 different flavors that range from Banana Bread to Cappucino, so with flavors that span that kind of gap, you're sure to find a few options to keep on hand for busy mornings.
6. Ezekiel Cinnamon Raisin Bread. For a quick breakfast that'll sticks with you all morning long, reach for Ezekiel bread. The kids never complain about mid-morning hunger when they've had a raisin toast sandwich for breakfast. (Note: Because this bread doesn't contain preservatives, you'll want to store it in the freezer.)
What do you reach for on busy mornings and jam-packed nights? Share your ideas for no-cook or "heat & eat" meals in the comments below!
Kristen and her husband have four children; she is also the founder of The Daily Mom App, a news app designed specifically for busy moms.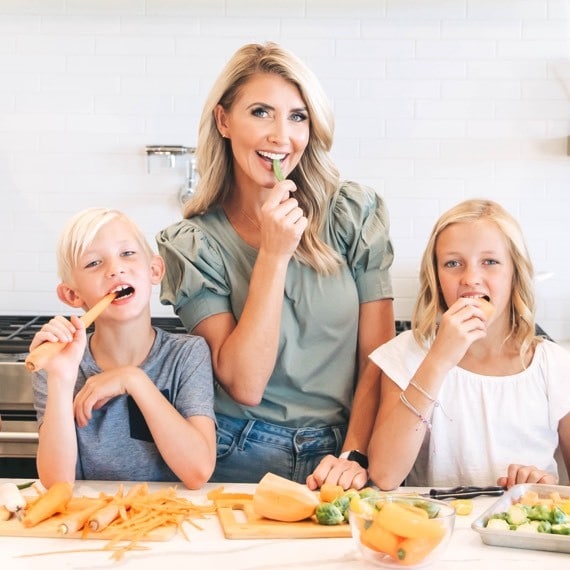 Natalie Monson
I'm a registered dietitian, mom of 4, avid lover of food and strong promoter of healthy habits. Here you will find lots of delicious recipes full of fruits and veggies, tips for getting your kids to eat better and become intuitive eaters and lots of resources for feeding your family.
Learn More about Natalie