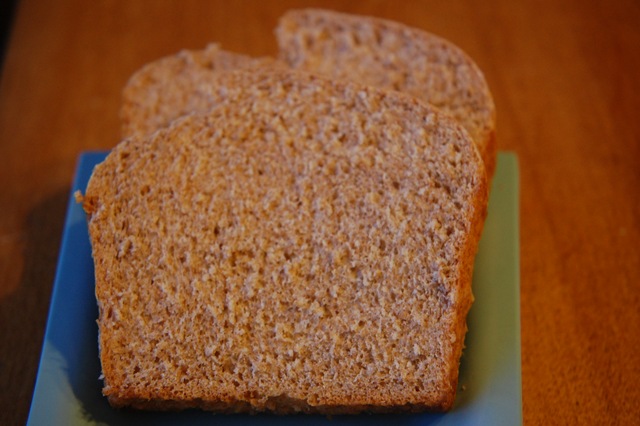 Hannah (my cousin) commented that her family too used to eat all the homemade bread as soon as it would come out of the oven. But she said, Once the novelty wore off, they didn't eat it all in one sitting.  I actually think that would work for my family.  I just need to be more consistent about making it, and the novelty will eventually wear off.
Yesterday, I tried a recipe sent to me from Terri.  It worked out perfectly, the first time, and with 100% whole wheat!  It is super delicious.  I truly think trying different recipes till you find one that works for you is key!  So, you must try this one!  I'm eating some right now!
Mixing the dry ingredients together.
  Putting it straight into the bread pan to rise once.
Leaving it in the COLD oven, turned the oven on, and baked for about 30 minutes.
I sliced it up and put it straight into a bread bag.  Looks just like the bag of bread I bought, and the kids don't actually know I made some bread today. It was fast, and they were clueless.
The recipe is straight from the email. I cut it in half. I really need to go buy some more bread pans.  I figure if I really make all my bread, I will save about $10 PER WEEK! That is how much I was spending on bread.
Easiest Whole Wheat Bread #1
4(8×4-inch) Loaves
7c. whole wheat flour
2/3 c. gluten flour
2 1/2  T. instant yeast
5 c. steaming hot tap water (120-130 degrees F)
2 T. salt
2/3 c. oil
2/3 c. honey or 1 c. sugar
2 1/2 T. bottled lemon juice
5 c. whole wheat flour
Mix together first three ingredients in mixer with a dough hook. Add water all at once and mix for 1 minute; cover and let rest for 10 minutes. Add salt, oil, honey or sugar, and lemon juice and beat for 1 minute. Add last flour, 1 cup at a time, beating between each cup. Beat for about 6-10 minutes until dough pulls away from sides of the bowl. This makes a very soft dough.
If you do not have a mixer with a dough hook and are kneading this by hand, gradually add last cup of flour to keep dough from sticking to counter. Your will add more flour when kneading by hand than when using a mixer simply to be able to handle this moist dough. With wheat bread, always add the least amount of flour possible to keep bread moist. Knead 10 minutes before shaping dough into loaves.
Pre-heat oven for 1 minute to lukewarm and turn off. Turn dough onto oiled counter top; divide, shape into loaves, place in oiled bread pans. Let rise in warm oven for 10-15 minutes until dough reaches top of pan. Do not remove bread from oven; turn oven to 350 F and bake for 30 minutes. Remove from pans and cool on racks.
Gluten is natural protein derived from wheat. It is used in bread to provide elasticity and strength, added texture and helps retain moisture in bread and doughs. It helps prevent crumbling and extends the shelf life of baked bread. If you do not want to store gluten flour, you may substitute whole wheat flour in its place.
Lemon juice in this recipe acts as a dough enhancer which gives bread a fine, light texture.
Yesterday, I made everything on my menu!!  The chicken and rice dinner is perfect, because the kids always eat everything.  TJ always has to have his food separated….thanks to the Healthy Habits Plate
But Erica, actually eats her food mixed together.  (And last night, she actually tried to steal her brothers broccoli!)