Get Organized Get Healthy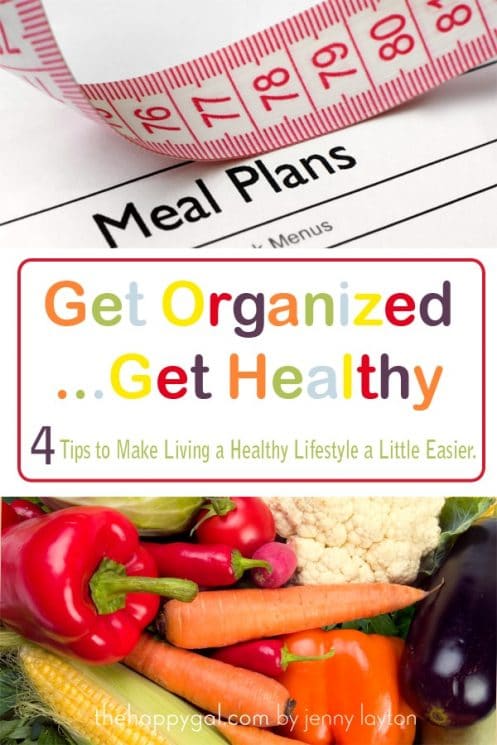 Living a healthy life isn't always easy or convenient. In fact, despite our good intentions, situations often come up that make it almost impossible to stick to our health commitments. That's where getting organized can help. As a blogger and a coach, I help people focus on living a life that is happier and more meaningful. We live in a fast-paced world that offers an abundance of information, choices, materialism, and even food. Being organized can play an integral role in managing all of this excess. It helps us sift through the many options that can tax our energy and time, and aids us in setting up systems that will serve us when life gets hectic. So here are some organizing tips that can help preserve those health goals in the midst of your busy, unpredictable life.
Identify Your Priorities
Yes, this is a critical part of being organized. In fact, it's the place I always start when coaching clients. When you are crystal clear about your priorities, you can organize your life around what is most important. If for you that means living a healthy lifestyle for both yourself and your child, you are more likely to design your life in a way that it that makes it easier to be healthy. For example, you'll know which hobbies, vacations, recreation or even career paths might serve your higher purpose. You can decide how to design the back yard (plenty of room to throw a football or play tag), agree as a family to choose a healthier restaurant when you go to dinner, or recognize that buying ski passes or a treadmill is financially justifiable. It might even help explain to your child why you favor bike riding over screen time. Ask yourself:
How can I build my life around these priorities?
Organize Your Schedule
Because there are so many activities that compete for our time, priorities might fall to the wayside if we don't schedule them into our lives. This is especially true when it comes to healthy living. There is benefit to having some aspects of healthy living, such as fitness, both meticulously planned AND spur-of-the-moment. After all, kids catch on quickly when we have an agenda! The consistency of routine might help them develop discipline, but fun and spontaneity can keep an active lifestyle feeling like a game. Ask yourself:
Do I allow enough flexibility in my schedule that we have the time to take the stairs or walk to the store from the back of the parking lot?
Is our family schedule open enough for an impromptu walk after dinner, or a pick up game of soccer at the park?
Do I have a regular time I include my children in my workouts, such as bike riding, running, swimming, hiking, or even pushups or sit ups?
Organize Your Menu Plan
This might seem like the most fundamental principle of healthy eating, but it's surprising how many people try to skip this important step. Since we live in a world of fast food and refined carbohydrates, healthy eating requires being prepared. Menu planning is your best ally when it comes to avoiding unhealthy food. Take the time to evaluate your week. Plan a menu that is realistic to your upcoming schedule. Then be sure to stock up at the grocery store. This type of organizing usually marks the difference between a delicious, healthy dinner and a last minute, desperate meal in which both your nutritional needs and your taste buds are unsatisfied.  Ask yourself:
Do I have a regular time that I plan my family's menu (at least a week in advance?)
Am I planning easy meals for hectic nights?
Do I consistently stock up on fresh produce and other ingredients, so there are a lot of healthy options on hand?
Organize Your Back Up Plan
What is certain in life? Death, taxes, and things not going according to plan. If healthy living is a determined priority, then you'll see the wisdom of having a plan for healthy eating in predictable situations.
Ask yourself:
Do I have a few go-to recipes if I have to prepare a healthy meal unexpectedly? Is my pantry and fridge always stocked with the necessary ingredients?
In the event that I am out longer than expected, do I have water, dried fruit, trail mix, and other non-perishable snacks in the car?
Do I have a healthy snack, such as piece of fruit, nuts, or bags of veggies, with me at all times (in my purse, brief case, etc.)
Might my child be offered unhealthy snacks at school or a friend's home? Have I stocked her backpack so she can have a more nutritious alternative?
Building your life around your priorities, anticipating problems that might arise and then planning ahead – this is what being organized is all about. I would love to hear ways you have organized your life to support your commitment to your health and the health of your children in the comment section below.
Jenny Layton is an author, speaker, blogger, and coach. She teaches women to live their best life, full of purpose and peace. Jenny focuses on such topics as body image, health, fitness, and organization.