It's so good to be home! We had a fun week at Lake Tahoe with my family, but it's always so nice to be home. Lake Tahoe is gorgeous! We swam, we hiked, we played games, and of course we ate! And now, I have laundry, a car to clean, groceries to buy, mail to read, and phone calls to return. ARGHHH!!
I want to abandon my meal plan template in favor of a Gluten free diet this week. Many people have been asking for this, and it isn't going to hurt us to avoid gluten now and then.  I do however have a slight inkling that Erica has an aversion to wheat.  My husband thinks I'm crazy, but she does have several symptoms that indicate a gluten intolerance.  Such as eczema, stomach pain, gas (bad gas!!), and bloating. So, this is trial week. We'll see if at least her eczema clears up a little.
| | | | | |
| --- | --- | --- | --- | --- |
| | Breakfast | Lunch | Snacks | Dinner |
| Monday | Rice Chex with yogurt and fruit | Hard boiled egg with sliced carrots and broccoli | Trail Mix with nuts and raisins | Chicken, brown rice, and vegetable stir fry |
| Tuesday | Cream of rice with blueberries and coconut milk | Taco Salad | Apple with almond butter | Fajitas with corn tortillas and vegetables |
| Wednesday | Banana smoothie and poached egg | Chicken nuggets Dipped in nuts with green salad | Peaches with cottage cheese | Turkey Chili with carrots, onions, peppers |
| Thursday | Scrambled Eggs with banana and nectarine | Fruit and Rice | Baked Apples with cinnamon | Broccoli and Pine nut soup |
| Friday | Cream of rice with peaches and milk | Lettuce Wraps | Carrot sticks with laughing cow cheese | Citrus Cinnamon Chicken in Slow Cooker with Zucchini |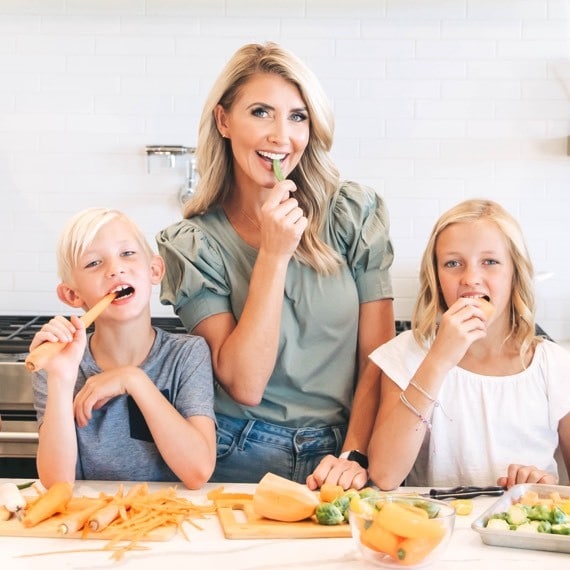 Natalie Monson
I'm a registered dietitian, mom of 4, avid lover of food and strong promoter of healthy habits. Here you will find lots of delicious recipes full of fruits and veggies, tips for getting your kids to eat better and become intuitive eaters and lots of resources for feeding your family.
Learn More about Natalie