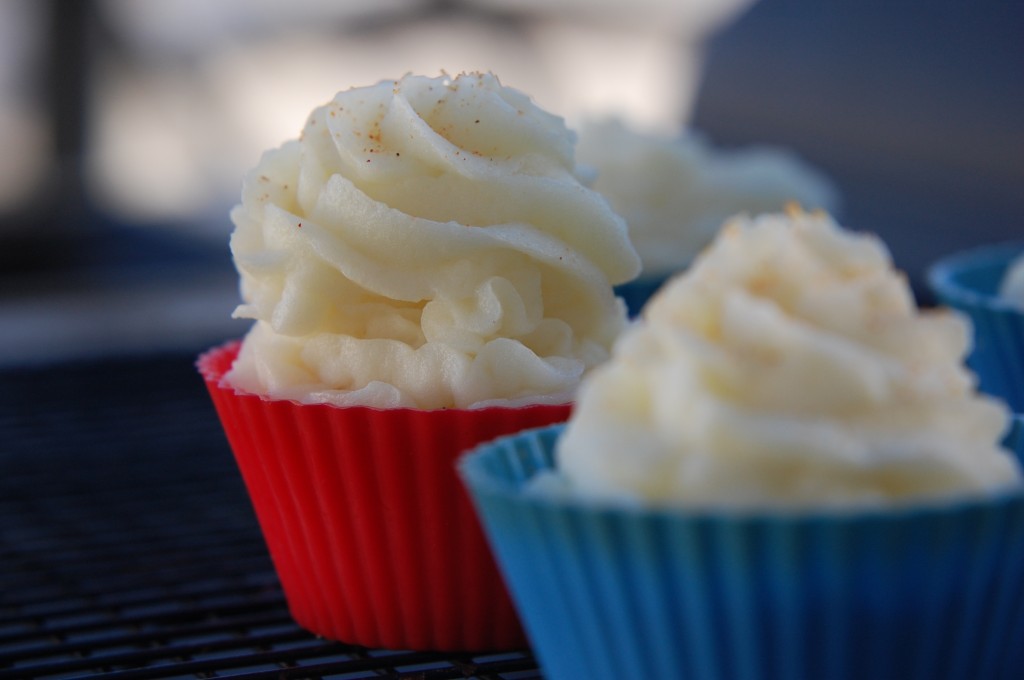 Last night I decided to put my old piping bag to healthier uses.  I used to love decorating cakes…but my kids wouldn't eat them.  In fact one birthday I was prepared to make an awesome cake (since I had just finished the Wilton beginners class), when my son announced he didn't want cake for his birthday. Instead he asked for these:
I was mortified! embarrassed!  And prayed the other mothers wouldn't know I was serving up Twinkies!
But onto why you are really here, and it's not Twinkies!
This simple presentation of mashed potatoes was a big hit!
All we did was make mashed potatoes.  I use 1 potato per person eating (so I boiled 5 chopped potatoes)
Blended the chopped/ cooked potatoes with a bit of salt, butter, and milk.
Then scooped the potatoes into a piping bag with the #20 star tip.
And piped them into my favorite silicone muffin cups (other uses for the muffin cups):
As I was falling asleep last night I was thinking… this would have been gorgeous with sweet potatoes!  Or to blend orange and white potatoes together!. or my husband thought I should have made them green for St. Patrick's day!  Woulda, coulda, shoulda. Oh well!
WARNING: If you are to try this at home..  I actually had a super difficult time getting the mashed potatoes through the #20 Piping tip.  My mashed potatoes, although I blended them really really well, were still somewhat chunky.  And the potato chunks got stuck in the tip.  I ended up prying the prongs of my tip open just a little bit wider.  If you have a bigger tip, it would be wise.
HAPPY ST. PATRICK'S DAY