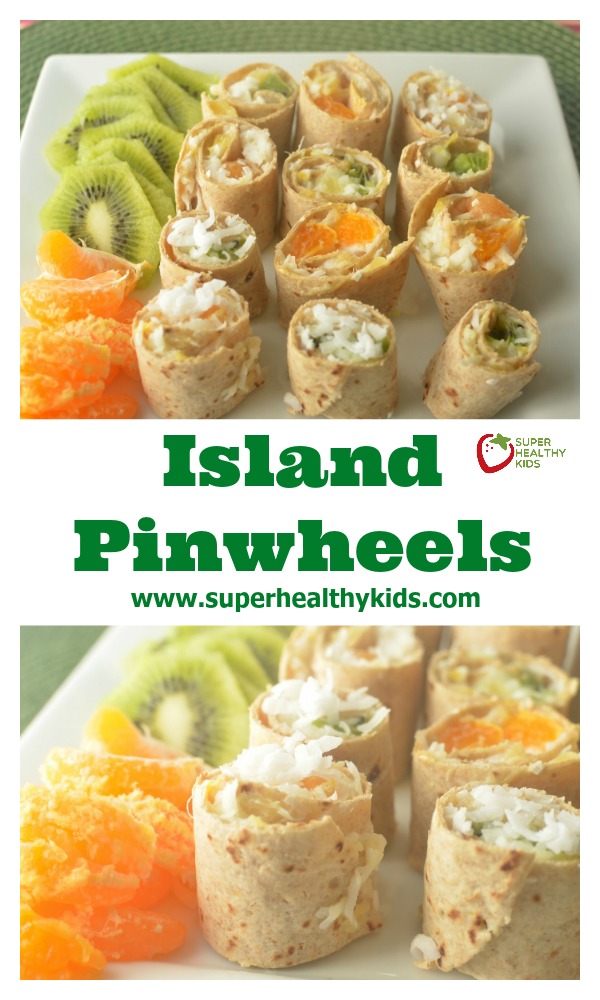 You might say my kids have a small obsession with tortillas!  We always have some in our pantry, and between lunch wraps, quesadillas, breakfast burritos, and bean burritos, we go through them pretty quickly!  We love tortillas!
Our latest creation was born out of our need for a tropical themed birthday party, in the middle of winter!  My daughter and I are Island girls at heart.  We just happen to live 5000 feet above sea level where we are surrounded by snow!  That doesn't stop us from dreaming though!  We've got to get our tropical fix somehow, so we made these pinwheels with fruit, coconut, and cream cheese for little appetizers for her upcoming birthday party!
We sent this recipe to La Tortilla Factory for a guest post today, and in return they are offering a giveaway of their delicious tortillas.  We used the honey oat tortillas for our Hawaiian Pinwheels, but they have some yummy ones with seeds in them, that my kids will eat!  Some of the varieties in their mini wrap line include:
White Whole Wheat
Honey Oat
Fiesta
Multi-Bran and
Three Seed!
Recipe Directions:
4 ounces light cream cheese
1 cup crushed pineapple (drained or squeezed of excess juice)
½ cup coconut
4 kiwi
2 mandarin oranges
Mix the cream cheese with the crushed pineapple and coconut and spread a tablespoon of the mixture onto each tortilla.  Next, peel the orange and separate the segments and peel and slice the kiwi.  Then arrange the kiwi onto half of the tortillas and the orange segments on the other half.  (We've also done this with mixed berries and they are amazing!!)
With the filling in place, roll the tortilla tightly and secure with a toothpick! NEXT: chill in the fridge until the cream cheese gets a bit harder, and they are easier to cut.  After a few hours, remove from fridge, and cut tortilla into 1-inch segments.  Sprinkle extra coconut on top for garnish.