This delicious recipe is from a new book we just received from our friend Tess, The Blender Girl.  We met Tess  at an event sponsored by Driscoll's berries last year in California.  We first bumped into her at the airport and ended up sharing a shuttle to the hotel which was an hour plus drive.  We got to chat the entire way and immediately loved Tess!  She is full of life, hilarious, and definitely an inspiration in the healthy eating world.  She just launched her new cookbook which is full of absolutely divine looking recipes that are right up our alley.  Healthy, tasty and lots of fruits and veggies!  She is definitely a master of the blender, but her cookbook has much more than what you would think of typical blender recipes.  This edamame dip was absolutely delicious and will be making it onto our meal plan rotation!  We love that it has spinach added into for added nutrition!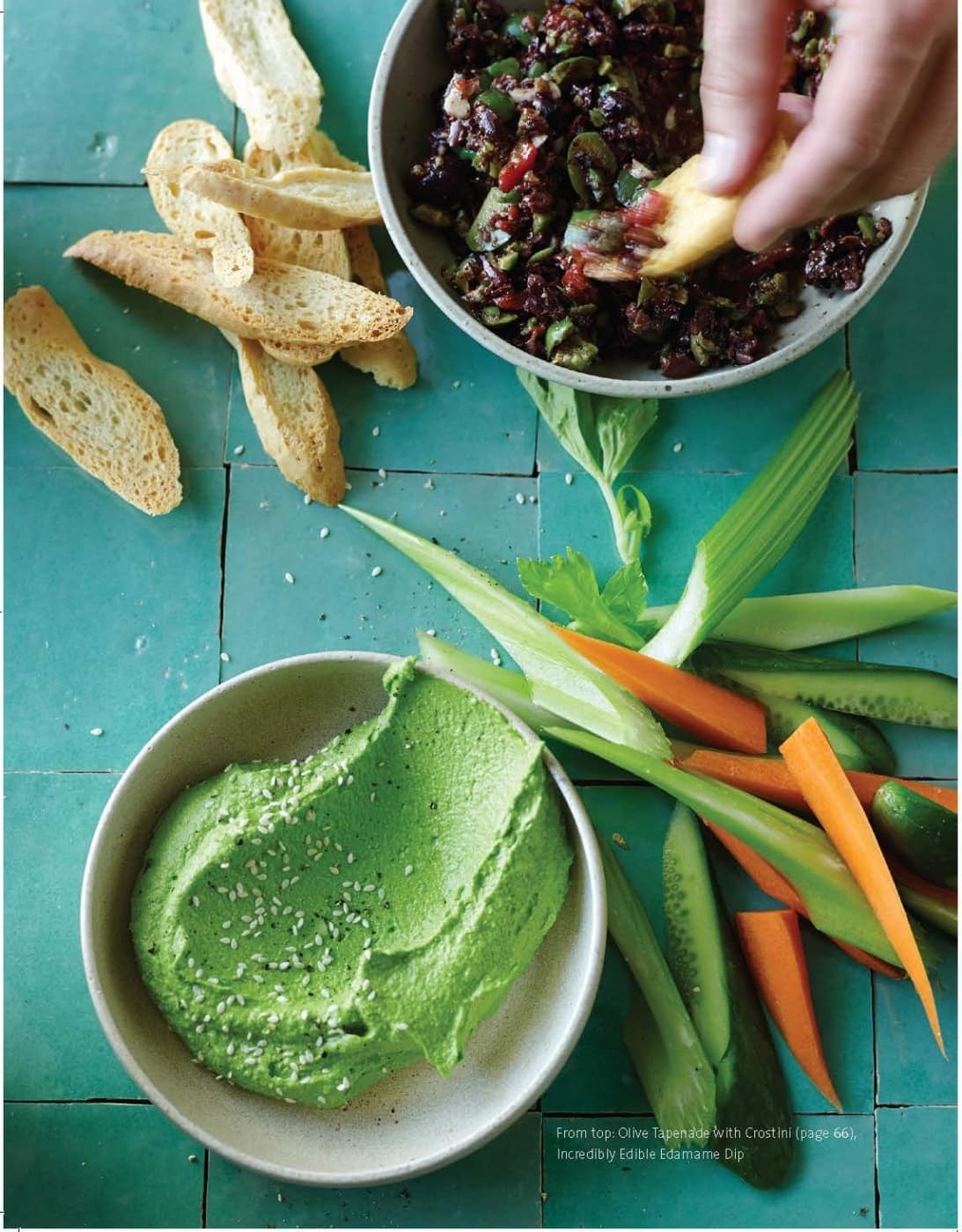 Photo taken by Anson Smart © 2014
---
This dip is literally just throwing everything into your blender, and done!  You will love her recipes, and her fun creative personality that comes out through her food!  
Incredibly edible edamame dip
One of the enduring favorites on my website, this recipe is addictive. Not only because it tastes
so darn good, but also because it only takes minutes to blend up and devour. However, the
recipe only works in a high-speed blender or food processor. Use it as a dip with raw vegetables
and crackers, or spread it on sandwiches or wraps. Totally guilt-free, super-healthy, alkalizing,
and nutrient-dense, this one's a winner on all fronts.
Makes 2 1/2 cups (550g)
3 tablespoons cold-pressed extra-virgin olive oil
2 cups (320g) shelled raw edamame beans
2 cups (54g) loosely packed baby spinach
1/4 cup (60ml) freshly squeezed lemon juice, plus more to taste
3 tablespoons tahini
1 1/2 tablespoons finely chopped onion (yellow, white, or Vidalia is good, but not red)
2 cloves garlic, minced, plus more to taste
1/4 teaspoon ground cumin
1/4 teaspoon red pepper flakes, plus more to taste
1 teaspoon natural salt (see box, page 38), plus more to taste
2 tablespoons sesame seeds (optional)
1/4 cup (12g) finely chopped flat-leaf parsley (optional)
Throw the oil, edamame, spinach, lemon juice, tahini, onion, garlic, cumin, pepper flakes, and
salt into your high-speed blender or food processor and blend on high or process for about
2 minutes, until smooth and creamy. Stop the machine periodically and scrape down the sides
of the container to fully incorporate the ingredients. A food processor will give the mixture
a coarse consistency, which some people prefer. Tweak flavors to taste. (You may like more
lemon juice, garlic, pepper flakes, or salt.) Serve topped with the sesame seeds and parsley.
---
Recipe reprinted with permission from The Blender Girl: Super-Easy, Super-Healthy Meals, Snacks, Desserts, and Drinks–100 Gluten-Free, Vegan Recipes! by Tess Masters, copyright © 2014. Published by Ten Speed Press, a division of Random House, Inc.
 Get your copy now on Amazon! 
And Tess is giving away 4 Vitamix Blenders!!  Enter here to win!