How to Plan the Ideal Snack for the Young Athlete
If you're a parent of a young athlete, I know you've been bombarded by the sports nutrition industry, and all their magical performance-enhancing, high protein, fast carb snacks. Add these to the regular food options available to your young athlete, and you know there are an overwhelming amount of snacks from which to choose. Because there are so many, it can be difficult to make a choice.
The most important thing to keep in mind for the young, growing athlete is to offer snacks that provide good fuel and not too much pollution. Pollution is the side stuff your young athlete doesn't need like extra, unnecessary protein, artificial ingredients, excessive sugar, or herbal additives. In other words, you'll want to keep snacks wholesome and make sure they help athletic performance, while benefiting overall growth and health.
The Best Snacks
The best snacks for all young athletes include a combination of protein and carbohydrate, as well as other nutrients such as calcium, iron and potassium. Protein transforms a snack into a "power snack," as it helps the muscles grow and recover after exercise. Carbohydrate provides a readily available fuel source for working muscles.
Let's take a look at food sources of each:
Carbs:
Fruit, including fresh, dried, canned and frozen
Whole grains and refined grains, such as low sugar whole grain cereals, oats, white or wheat breads, bagels, crackers, pretzels, brown or white rice, whole wheat or regular pasta
Dairy or non-dairy substitutes, like milk, soymilk, yogurt, and cheese
Beans and starchy vegetables, such as kidney and black beans, peas, corn and potatoes
Colorful vegetables like broccoli, green beans, asparagus, peppers, lettuce or squash
Protein:
Eggs
Beef
Poultry, including chicken and turkey
Fish
Dairy and high protein non-dairy substitutes, such as cow's milk, soy milk, Greek and regular yogurt, or low fat cheese
Put them together
These power snacks also offer other important nutrients, such as calcium and potassium, which not only help the young athlete perform at his or her best, they add to the nutritional quality of the diet and support his or her growth and development.
When should snacks be eaten?
Ideally, snacks are planned during the day between major meals and are typically eaten before exercise, about 1-2 hours before. This allows plenty of time for digestion and for blood sugar and glycogen (the carbohydrate energy stored in the muscle) to be available during exercise.
For the athlete who is exercising for longer than an hour, an additional carbohydrate-based snack eaten 30 minutes to an hour before exercise is a good idea. Good options include a banana, small box of raisins, small portion of pretzels, or ½ cup of yogurt. This offers an extra carbohydrate source, which helps the athlete keep his energy up during longer bouts of exercise.
If a young athlete is exercising for an hour or less, this additional small snack before exercise is not necessary. Regular meals and planned snacks during the day should cover the athlete's hunger and calorie needs. However, if your young athlete seems to be hungry, consider beefing up regular snacks or add a small pre-workout snack. Be careful though, extra unnecessary snacking can work against your athlete, providing extra calories and potentially slowing him down.
After exercise, a snack such as a cup of chocolate milk may help young athletes recover more quickly from high intensity exercise of long duration (more than an hour). This combination of protein and carbohydrate serves two purposes for the young athlete: to reload muscles with energy (carbs) and to help with muscle recovery after exercise (protein). Any protein and carb combination can work well in this scenario.
While those grab-n-go bags of fishy crackers or chips are quick, yummy and convenient, they don't offer the young athlete the nutrition and power they need to perform at their best. Get your athlete's snacks right, and you may see athletic performance improve, as well as his overall health.
Jill Castle, MS, RDN is a childhood nutrition expert and author of Eat Like a Champion: Performance Nutrition for Your Young Athlete. She lives with her husband and four children in New Canaan, CT. Find out more at www.JillCastle.com.
Link to purchase book on Amazon:
Link to book website:
http://www.nutritionforyoungathletes.com/
Link to Jill Castle: www.JillCastle.com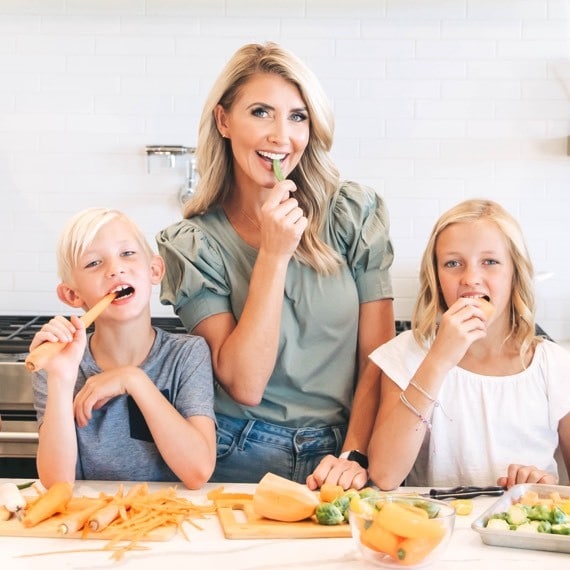 Natalie Monson
I'm a registered dietitian, mom of 4, avid lover of food and strong promoter of healthy habits. Here you will find lots of delicious recipes full of fruits and veggies, tips for getting your kids to eat better and become intuitive eaters and lots of resources for feeding your family.
Learn More about Natalie