How to Can Your Own Spaghetti Sauce
Wash tomatoes and place in boiling water for 30 to 60 seconds or until skins split.
Place in cold water and slip off skins.
Remove stems, cores and quarter tomatoes
Cut the top of the green peppers and remove core and seeds.
In a food processor, cover and process green peppers and onions in batches until finely chopped.
Combine the tomatoes, chopped green peppers and onions, tomato paste, oil, sugar, salt, garlic, oregano, parsley, basil, pepper flakes, Worcestershire sauce and bay leaves. Bring to a boil. Reduce heat; simmer, uncovered, for 2-3 hours, stirring occasionally to ensure that it doesn't burn. Discard bay leaves.
Add lemon juice to nine quart jars, 2 tablespoons in each. Ladle hot mixture into jars, leaving 1/2-in. headspace. Remove air bubbles; wipe rims and adjust lids.
Place your filled jars on the rack in the pressure canner. You can fit 7 quart jars in a pressure canner at one time.
Pour three quarts of water into the canner. The water should be about three inches deep.
Twist and lock the pressure canner lid down into place. Turn the stove on to high heat. (You should not pressure can on a flat top stove)
After a while, steam will start to come out of the vent pipe. When you see a steady stream, set the timer for 10 minutes, and let it vent.
When the timer rings, put the pressure regulator on the vent pipe. The pressure in the canner will start to rise.
NOTE: Do NOT take the pressure regulator off for any reason until the pressure has come back down to zero.
As the pressure rises, the air vent/cover lock will pop up. The lid is now locked on. The air vent/ cover lock also releases some air from the canner as the pressure goes up. This is a safety feature of the pressure canner.
Heat the canner until the pressure gauge comes up to pressure, then adjust heat to keep it at that pressure. You may need to keep adjust the heat to keep the gauge at the right pressure.
Use the following pressure for different altitudes:
0-2000 ft: 11
2001-4000 ft: 12
4001-6000 ft: 13
60001-8000 ft: 14
Process at the appropriate pressure for 25 minutes.
After 25 minutes, turn off the heat.
Leave the pressure canner alone until the pressure gauge comes back down to zero.
Once the gauge is back down to zero and the air vent/cover lock has dropped, remove the pressure regulator and open the lid away from you.
Do NOT take the lid or pressure regulator off until the pressure gauge comes down to zero. This usually takes about 30 minutes.
Take the processed jars out of the pressure canner with your jar lifter. Place on a towel or cooling rack and let cool. Make sure the lid seals before removing lids or moving the jars.
Ingredients
25 pounds tomatoes
4 large green peppers, seeded
4 large onions, cut into wedges
4 cans (6 ounces each) tomato paste
1/4 cup canola oil
2/3 cup sugar
1/4 cup salt
8 garlic cloves, minced
4 teaspoons dried oregano
2 teaspoons dried parsley flakes
2 teaspoons dried basil
2 teaspoons crushed red pepper flakes
2 teaspoons Worcestershire sauce
2 bay leaves
1 cup plus 2 tablespoons bottled lemon juice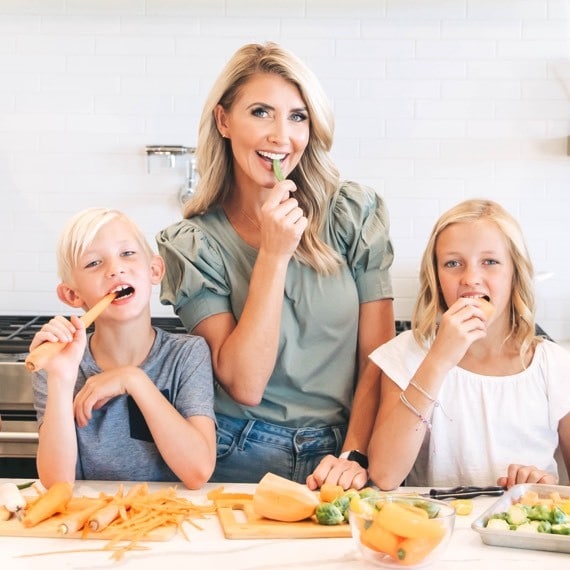 Natalie Monson
I'm a registered dietitian, mom of 4, avid lover of food and strong promoter of healthy habits. Here you will find lots of delicious recipes full of fruits and veggies, tips for getting your kids to eat better and become intuitive eaters and lots of resources for feeding your family.
Learn More about Natalie