Homemade or Store Bought? Make the Bread, Buy the Butter Book Review
I believe as a matter of learning self-sufficient skills, and to make things healthier, a person should be able to make anything from scratch. But, do you ever wonder if it's worth it? Before making something from scratch you should consider:
The cost involved (is it cheaper to make from scratch, or not?)
The taste! Does it taste better from scratch?
The time. (Does it take 5 minutes to make from scratch, or 5 hours?)
Is it healthier to make from scratch, or is it exactly the same??
I've been wanting to make some comparisons with cost, time, and taste, but I've never really gotten around to it. But now I don't have to! Jennifer Reese from Tipsy Baker already did it. Her book, Make the Bread, Buy the Butter has everything! I love her conclusions because she will say, even though it may be cheaper and faster to make instant potatoes, mashed potatoes are still a "make from scratch" because the taste is so much better!
She compares everything from Pop Tarts to Pumpkin Pie. Some of her findings surprised me, and were also funny! Some of my favorite findings were:
Pumpkin pie:

Jennifer compared using a can of pumpkin vs an actual pumpkin. She said "The canned pumpkin was (obviously) more convenient, and I didn't have to wait for it to roast. It was slightly more expensive- about $0.50 more than the whole pumpkin. But those were fifty cents well spent, because it made a superior pie- the flavor was bigger, rounder, and more pumpkin-y. I have no idea how you get more pumpkin-y than an actual pumpkin."
Rice Krispie Treates: Make it or Buy it? Make it. Hassle: Supervised first graders can make these, though they probably won't scrub the pot. Cost comparison: Store bought treats cost three and a half times as much as homemade.

Pop Tarts

: Make it or Buy It? Make it. Once. Hassle: Major headache.

Pumpkin Chocolate Chip Muffins

: Make it or Buy it: Make it. Hassle: Some stirring is all. Cost comparison: Starbucks muffin: $1.85. Homemade muffin of equivalent size: $0.60

Buns

: did you know, Jennifer recommends buying hamburger buns, but making hot dog buns!
Anyway- You get the picture! Fun book!! With each item in the book, is an accompanying recipe. For cocoa (instead of paying for Swiss Miss, she has a recipe for it), BBQ sauce, granola, mashed potatoes, and even birthday cake.
---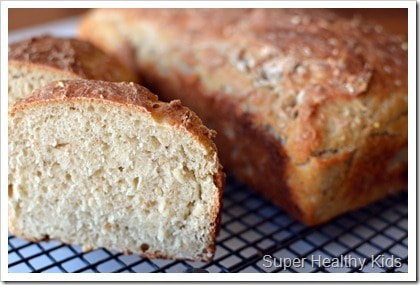 So I set out to make her homemade bread yesterday. It was so easy, and super-super-super-super yummy! With everyday bread she says:
Make it or buy it? Make it
Hassle: Can you stir? You can make this bread.
Cost comparison: Homemade: Less than one dollar a loaf, including fuel to heat the oven. A 1 pound loaf of levain bread made by Acme, a local artisan baker, costs $5.50. A loaf of Sara Lee Classic 100% whole wheat: $4.39.
Recipe
Neutral vegetable oil, for greasing
1 teaspoon instant yeast
3 1/2 cups whey from making yogurt, or water at room temperature.
5 1/2 cups all purpose flour
1 3/4 cups whole-wheat flour
1/3 cup flaxseeds (optional)
4 teaspoons Kosher salt.
Oil the inside of two 9 by 5-inch metal loaf pans.
In a large bowl, mix the yeast, liquid, flours, seeds (if using), and salt. Scrape the dough into the pans. Drape with a clean, damp dish towel and let rise for about 2 hours until level with the tops of the pans.
Preheat the oven to 450 degrees F.
Bake loaves for 30 minutes.
Remove the bread from the pans, return to the oven, and bake directly on the rack for 15 minutes more. The bread is done when it is richly colored and sounds hollow when tapped.
| | |
| --- | --- |
| | |
| Mix the ingredients | Stir it together |
| | |
| Put the dough in bread pans | Rise, Bake, and eat! |
---
This bread was so easy to make, and everyone loved it! I really do want to make more of our bread, if I can keep up with the demands of my kids!
The recipes and the commentary of this cookbook is great! I am so excited to have it on my shelf! Check it out at Jennifer's website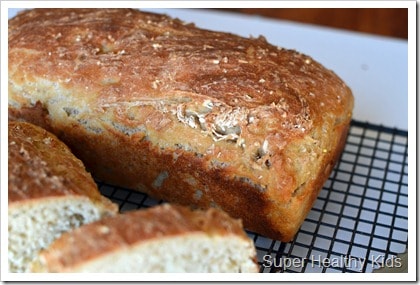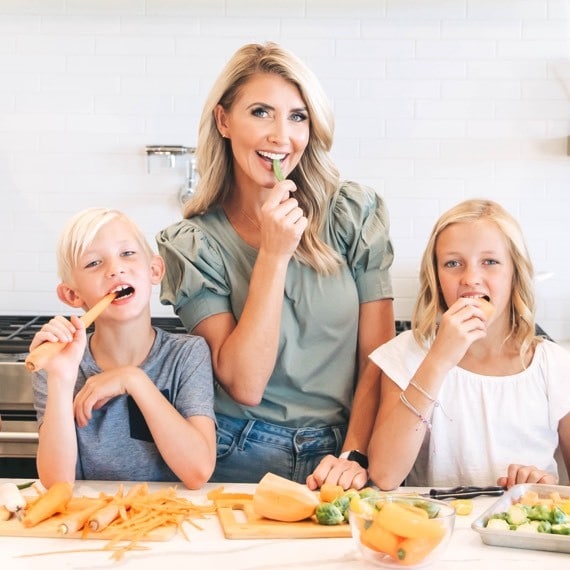 Natalie Monson
I'm a registered dietitian, mom of 4, avid lover of food and strong promoter of healthy habits. Here you will find lots of delicious recipes full of fruits and veggies, tips for getting your kids to eat better and become intuitive eaters and lots of resources for feeding your family.
Learn More about Natalie