Homemade Mixes- Blueberry Muffins
This week we are all about quick (and still healthy) meals! You can follow us this week on social media (like facebook , pinterest, or instagram) by using the hashtag #healthyfastfood. Our first quick meal idea is to have homemade mixes on hand, like blueberry muffin mix!
Mixes are great because it means you have to have less ingredients in your cupboard to make your kids favorite dishes, your kids can start learning cooking skills, and the cleanup is generally quicker! We love to make our own mixes like muffin mix or pancake mix so that we can prep a meal in a pinch!
Not only that, mixes are expensive! You pay more for the packaging, the chemicals, and ingredients like corn syrup, partially hydrogenated soybean and/or cottonseed oil, artificial flavors, etc. When you make your own, you can control the cost as well as what goes into it. Plus, I like to be as self-sufficient as possible, and making our own helps us to feel like we don't need to send our money to big companies.
So, lets get started. The hard part is going to be finding the correct ingredients. You'll have everything you need except maybe some powdered eggs and dried blueberries. If you can find a store that carries food storage supplies, you'll find your dried eggs and dried blueberries. Make sure the only ingredient in your product is the eggs and the blueberries themselves- nothing more! I ended up using freeze dried blueberries, which were not cheap, but turned out great! If you rather save some money (and they'll probably taste better) leave out the dried blueberries, and just add fresh or frozen when you go to make your muffins.
For the mix, stir up all the ingredients listed below. and store in the pantry in an air tight container.
When you are ready for muffins, simply portion out the mix in a muffin tin and add water and oil! Print the label below for your box!
Serve your muffins as part of a balanced breakfast with eggs and juice!
And BLUEBERRIES! We love them. Blueberries are full of antioxidants and vitamins that are great for kids.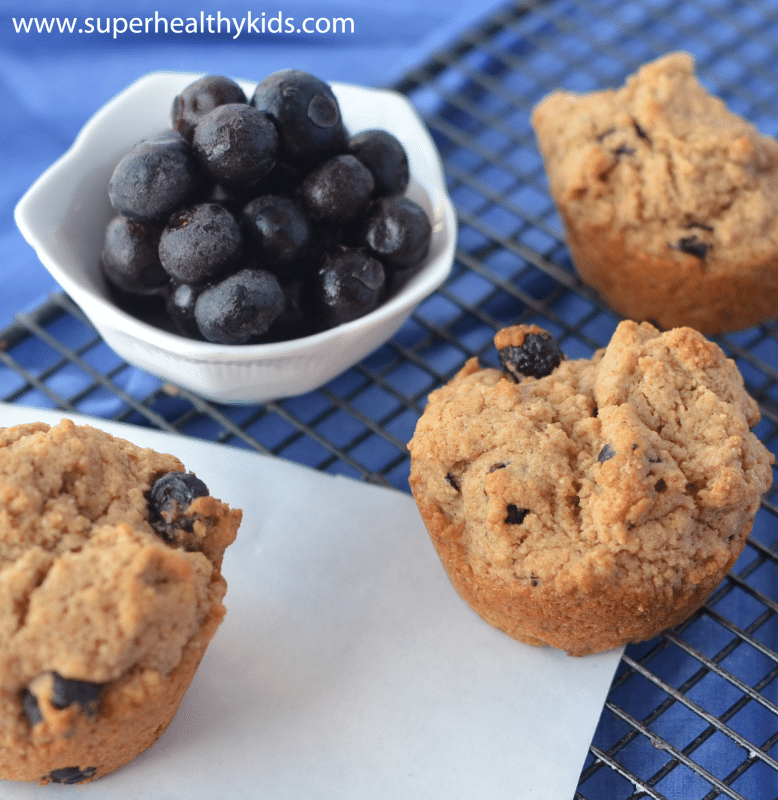 End notes and alterations:
Crumb topping! If you want to make these really amazing, add a crumb topping with 2 tablespoons flour, 5 tablespoons sugar, 1/2 teaspoon ground cinnamon, and 2 tablespoons butter.
I tried the entire mix without the powdered milk, and just added water when I mixed it up. It turned out fine- the texture didn't change, but we thought the milk version tasted a little better.
Keep out the dried blueberries and add them fresh each time you make them! Then, you truly have a master muffin mix that you can add different fruits for different times of the year!
I haven't tried the mix with mixing all-purposed flour with our whole wheat flour- but I'm 99% positive you can do that and it will still taste great. Let us know if you do!
We've tried less sugar, and it wasn't so great.
Homemade Mixes- Blueberry Muffins
When you make your own tasty blueberry muffin mix, you can control the cost as well as what goes into it.
Print
Pin
Rate
Ingredients
Prep ahead for 60 muffins
9

cups

whole wheat flour

2 1/2

cups

sugar

2 1/2

teaspoons

salt

4

tablespoons

baking powder

3/4

cup

dried/powdered eggs

1 1/2

cup

powdered milk

2

tablespoons

cinnamon

5 – 6

cups

dried blueberries
When you are ready to prepare the muffins, for 12 use
2 1/2

cups

of the mix

1/2

cup

water

1/3

cup

oil

we used coconut oil
Instructions
Prep ahead
Mix all ingredients together and store in an air tight container in the pantry
Baking Muffins
Preheat over to 350 degrees F. Spray a muffin pan with cooking spray or line with muffin papers.

Mix 2 1/2 cups of dry muffin mix with 1/2 cup of water, and 1/3 cup oil like coconut oil. Gently stir together.

Fill muffin tin 3/4 full with muffin batter. Bake for 15 minutes, or until centers have cooked through.