This Fabulous Fish Taco recipe packs all the food groups into one amazing lunchtime dish.  The best part is that this recipe won a young chef a seat at the White House Kids' State Dinner as part of the Let's Move Healthy Lunchtime Challenge.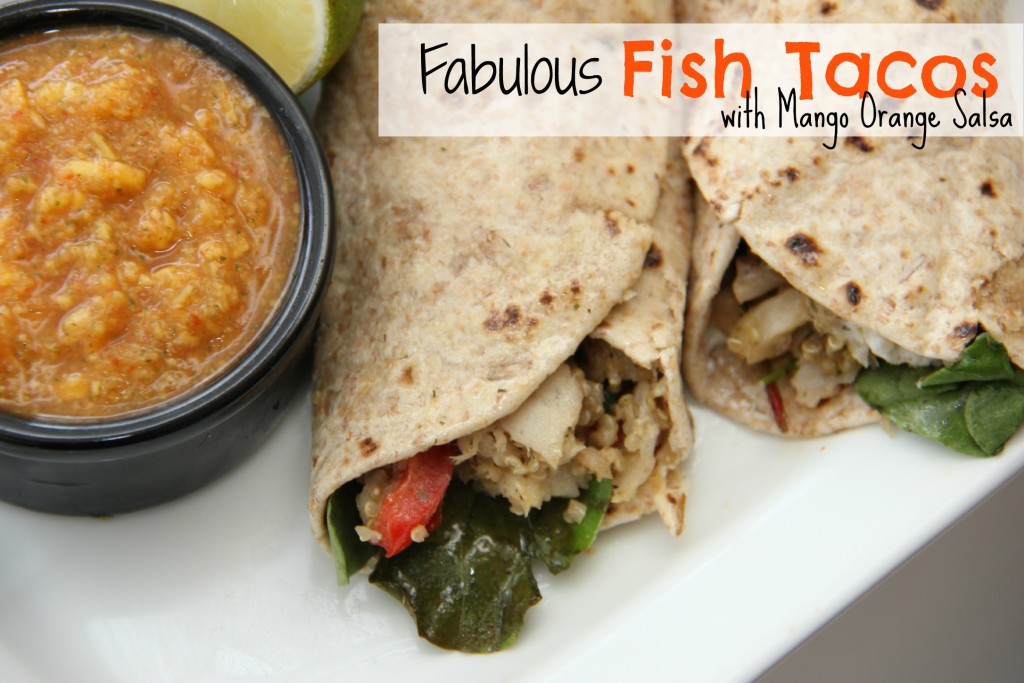 Hi there!  It's me again… Toria aka Sous Chef Mommy with the Step Stool Chef.  My little chef and I are big advocates of the Kids in the Kitchen movement and are very excited to see it continue to build momentum.  We focus on a "kids teach kids" approach to cooking and celebrate kid independence in the kitchen.  So you can imagine how excited we were when we learned that the White House hosts an annual Kids' State Dinner that celebrates young chef throughout the country.  As part of the Let's Move campaign, the White House partners with various organizations to create the Healthy Lunchtime Challenge, a nationwide recipe contest that invites kids to create an original recipe that is healthy, affordable and tasty.  One winner from each state, territory and the District of Columbia was selected to attend and this Fabulous Fish Taco recipe won an 8 year old girl from Nebraska a coveted spot to the dinner.
After scrolling all the recipes created by these young chefs, I was so inspired that I wanted my Step Stool Chef to give one of them a try.  I love anything called "Fabulous" so this one immediately caught my attention.  In her submission, 8-year old Grace Brown shared "The best thing about these fabulous fish tacos is they use all the food groups. We use whole-wheat tortillas as a grain, the fruit and vegetables add lots of nutrients, and the Greek yogurt is a great source of calcium."  And she wasn't kidding, we had a ball going through the produce section looking for all of these wonderful ingredients.
Making the salsa was the most fun part for us.  First my little chef rough cut the veggies, herbs and mango then placed them in a food processor.  We followed most of the original recipe except we omitted the jalapeño and avocado as a personal preference.  After tasting the first batch, my little chef was not enthusiastic about the taste.  We took 3 small cups with a small batch of the salsa so that my little chef could experiment with different ingredients and flavors that he thought would make it more yummier (his words…not mine). In one cup he added cinnamon.  In the second other cup he added a pinch of salt.  In the third cup he added more mango and orange juice.  Experimenting is always my favorite part of cooking with my little chef.  It promotes creative problem solving and decision making as well as builds an instinct for cooking.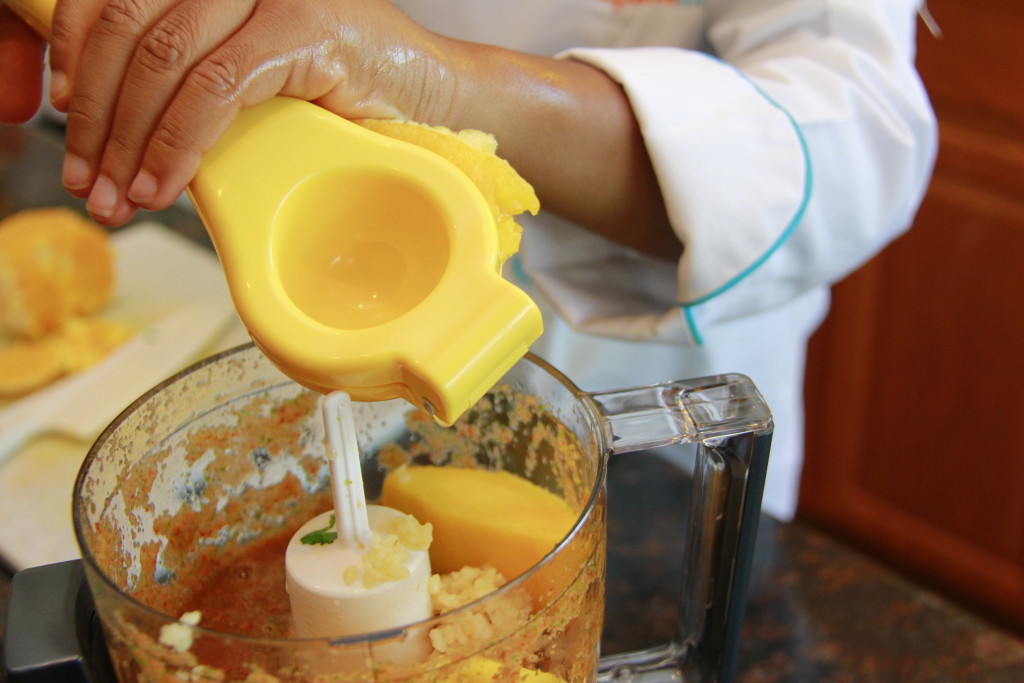 Adding the extra mango and orange juice seemed to be the winning combination. Now our version of the recipe includes 1 whole mango (chopped) and 1 whole orange (juiced).  It got a little messy after a while but one big rule in our kitchen is to "Remember Your ABCs (Always Be Cleaning)".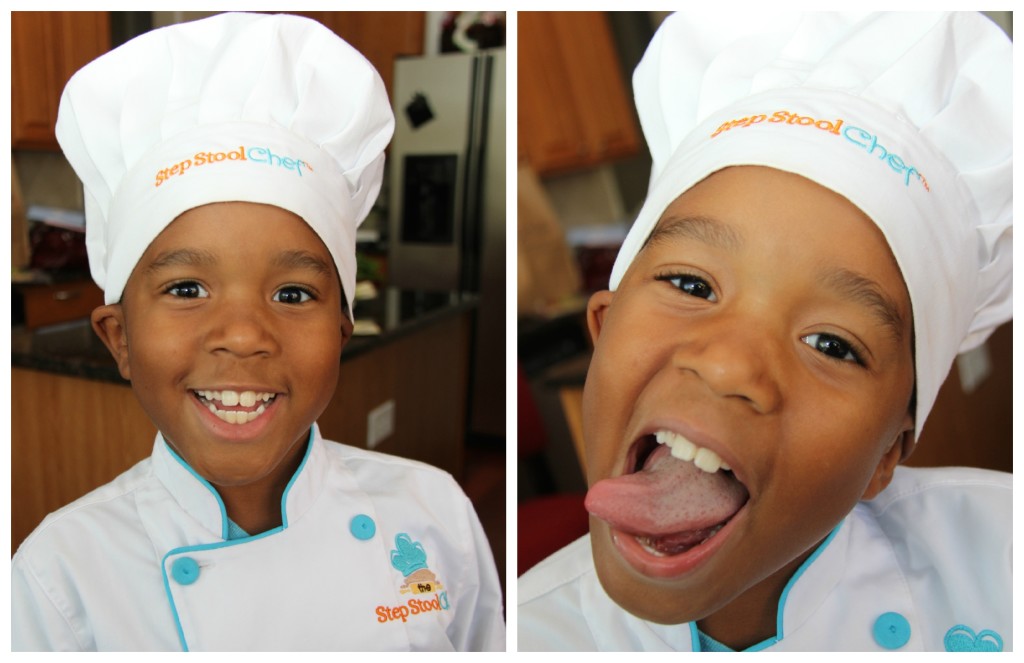 After all the experimenting and cleaning, my little chef started getting a little antsy and was ready to play.  I always want cooking to be fun for him and not a chore.  So when I notice I have lost his attention, I gladly give him a break.   This proved to be good timing as it allowed me to cook the fish.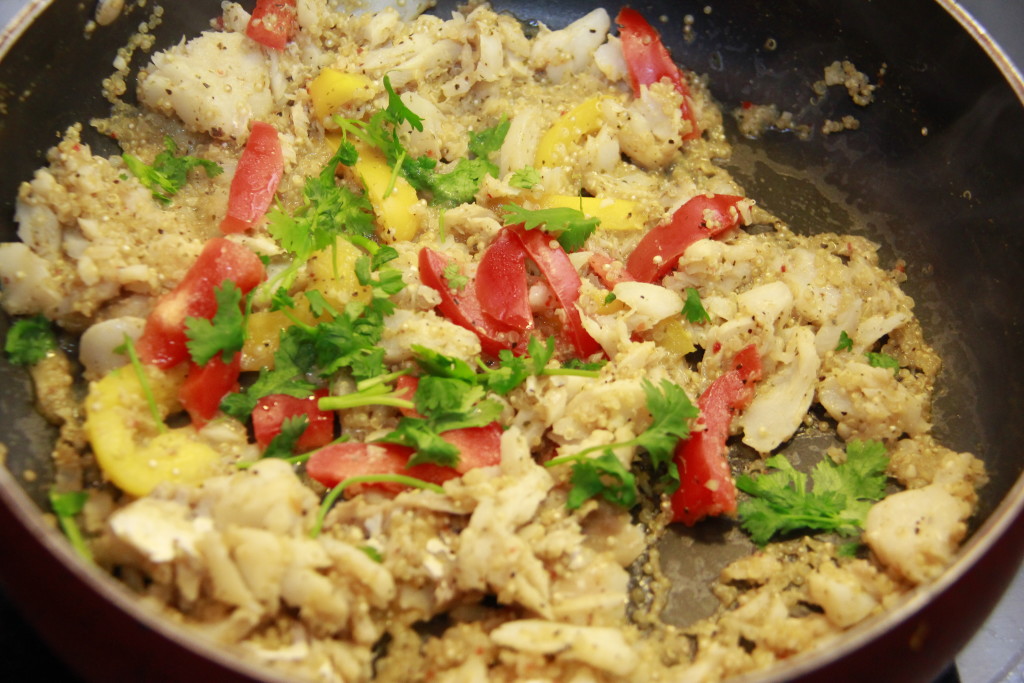 Cooking the fish was quite easy.  The only adjustments I made to the original recipe is that I added salt and pepper in addition to the cumin to season the fish.  The recipe calls for you to add cooked quinoa to the pan seared fish.  I had never thought about adding quinoa to a fish taco but what a great way to pack in more protein!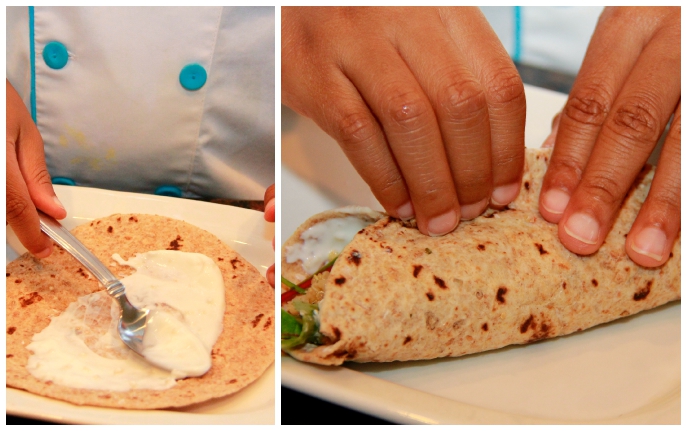 Assembling the tacos was quite easy as well.  Simply spread the Garlic-Lime Sauce on warm whole wheat tortilla then place spinach and the quinoa and fish mixture in the middle of the tortilla.  Wrap and serve with Mango Orange Salsa.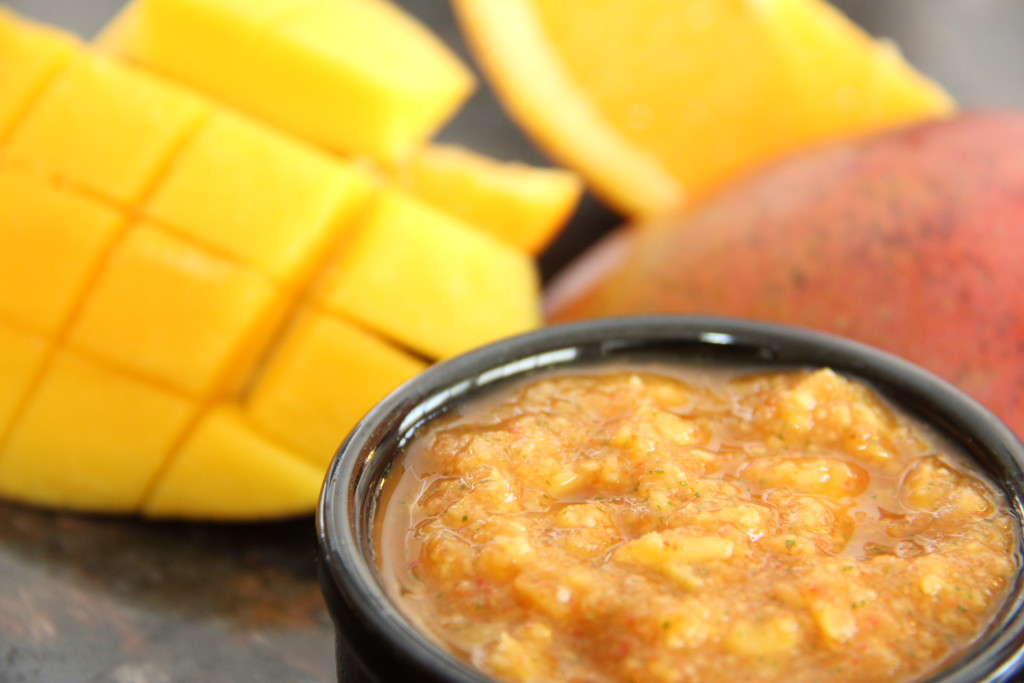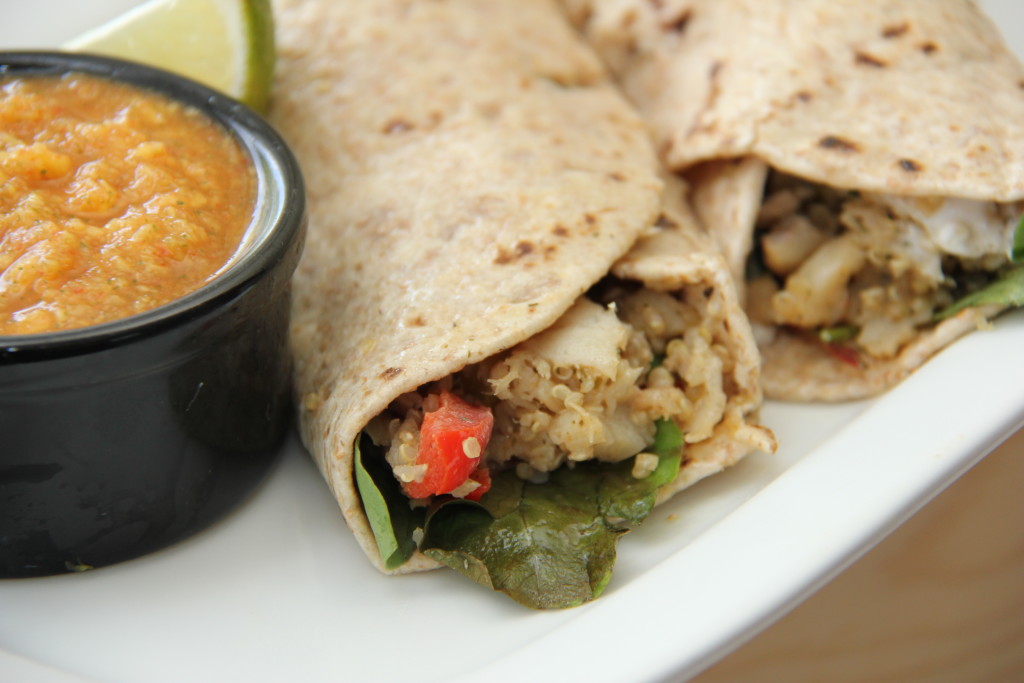 Congratulations to all the winners of the Kids' State Dinner!  Sounds like it was an amazing opportunity plus it was so inspirational.  We enjoyed making our version of this winning recipe.
The Healthy Lunchtime Challenge is targeted for kids ages 8-12 so my little chef was too young to enter this year.  Maybe we will give it a try next year.  Whaddya think?
Toria and her 7-year-old son are co-founders of The Step Stool Chef, dedicated to celebrating and inspiring kid independence in the kitchen.