5 Ways to Involve your Kids THIS Thanksgiving
Thanksgiving is just right around the corner. As you keep busy with planning and prepping, involving your kids can make the holiday more meaningful and great for family bonding. Here are 5 fun and creative ways your kids can take a more active and impactful role this Thanksgiving:
1. Lead a Gratitude Activity for the Family
Thanksgiving is fast becoming my favorite holiday. It's a day to contemplate and practice one of my favorite virtues…Gratitude. Gratitude is all about celebrating the good things in your life. While this practice should happen year round, Thanksgiving is the perfect opportunity to spend time as a family and count your blessings.
As parents we are constantly trying to find ways to make sure we are raising thankful children. During this Thanksgiving, ask your child to lead a family gratitude activity. By giving them the responsibility of leading it for the family, they are more likely to be excited to participate.
2. Decide on Family Giving
There are two parts to Thanksgiving – THANKS and GIVING. The holiday season is a great opportunity to introduce and involve your kids in deciding how your family will give to others in need. Whether it's donating items, money or time, kids can play an integral role in deciding how the family will share its blessings. This Thanksgiving, have everyone in the family write down a charity or community service project idea on a small piece of paper then draw one of the ideas to be completed by the end of the year. Knowing that you value and listen to their ideas is a great confidence booster for kids. Ideas such as donating to the local Goodwill, sponsoring a child or participating in a turkey or food drive are great giving opportunities that involve kids.
3. Decorating and Setting the Table
4. Meal Planning
Have your kids help decide what to serve for the holiday meal. Let them add their favorite dishes to the list as well as challenge them to try new ones. This will be a great opportunity to share how to create a balanced meal and how to make healthy choices. Plus they will begin to build basic concepts of how to take a large project and break it up into smaller steps. Involve them in making the shopping list and helping you find the ingredients needed for the meal. When kids have a job to do, shopping with the them goes a whole lot smoother.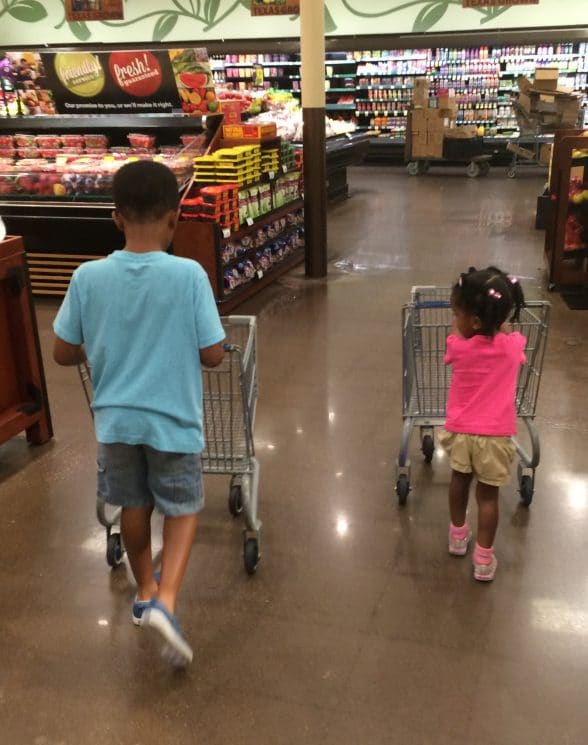 5. Cooking and Prepping
If your family is anything like mine, holiday cooking is a multi-day event. While initially it may seem easier and faster to let the adults handle all the cooking, getting your kids involved could be a big help. Kids learning to cook builds confidence, empowerment and independence. Kids can help with prepping such as washing veggies, measuring and mixing. Or give your kids a special dish to contribute to the family meal. There are so many kid-friendly recipes that are simple to prepare fairly independently. They provide the dessert like these easy & fun Baked Apple Pie Bites, a twist on traditional apple pie. Or they can prepare a make ahead breakfast the family can enjoy Thanksgiving morning such as this kid-friendly Berrylicious French Toast Casserole recipe.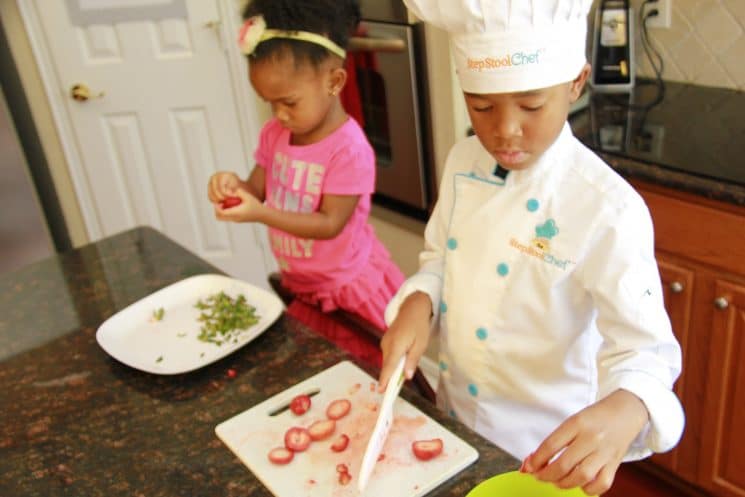 No matter which option you choose, use this opportunity to slow down and cherish the time you spend together as a family. Happy Thanksgiving from The Step Stool Chef!
Toria and her 7-year-old son are co-founders of The Step Stool Chef, dedicated to celebrating and inspiring kid independence in the kitchen. Love the idea of cooking with your kids? Click here to download their free e-book, "Top 10 Tips to Make Cooking with Kids Easier".