Keeping the kids away from these pretzels after school before I got a picture was almost impossible! They were ready to dive in. As soon as the 'Photo session' ended, they split the pretzels three ways, and they were gone within minutes. I guess you could even consider this a dessert for my kids they way the inhaled them (they are carboholics just like me). I tried to make some spiders for Halloween, but they really didn't turn out the way I envisioned they would.
While pretzels are great, the real nutritious gem in this snack is the hummus! Full of protein, fiber, and nutrients like manganese, folate, and tryptophan, hummus is a great way to fill nutrient gaps in your kids diet. Chickpeas have been linked to blood sugar control and improved digestion. Commercially prepared hummus is full of sodium. I've tried looking for low-sodium hummus, but it's not easy to find. Preparing hummus yourself is easy anyway, so just do it! Mix up some hummus today and help your little ones get some much needed nutrition!
Hummus Recipe:
1 15oz can garbanzo beans (chickpeas) drained and rinsed
1 clove garlic, chopped
1/2 cup plain yogurt
2 TBL lemon juice
1 TBL olive oil
salt
pepper
Blend up in food processor.
Use for veggie dip, or bread spreads.
Soft Pretzel Recipe
1 1/2 cup warm water
1 teaspoon yeast
2 tablespoons honey
Dissolve in water and let sit for 10 minutes
Then add:
1 teaspoon salt
4 cups flour
Mix thoroughly and knead for 5 minutes. Cover and let rise for 30 minutes.
After rising, roll pieces into ropes and shape as desired. Dip ropes in a baking soda water solution of 2 cups warm water and 2 tablespoons baking soda. Place on a greased or parchment lined cookie sheet and let rise again for 1 hour. Bake in oven at 450 degrees for 10 minutes or less (until pretzels begin to turn brown and are cooked through). Serve with hummus!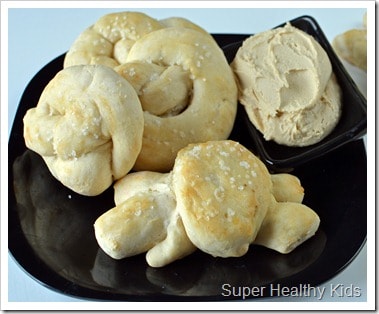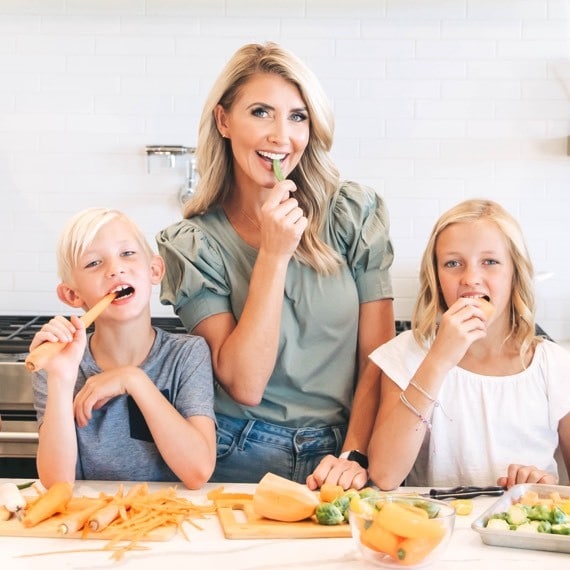 Natalie Monson
I'm a registered dietitian, mom of 4, avid lover of food and strong promoter of healthy habits. Here you will find lots of delicious recipes full of fruits and veggies, tips for getting your kids to eat better and become intuitive eaters and lots of resources for feeding your family.
Learn More about Natalie