Prepping Healthy Snacks to Have Ready for your Kids
The perfect after school snacks, ready for your kids!
I specifically remember some days coming home from school when my mom would have a snack ready on the kitchen table for us. However, the only food I can actually recall was graham crackers with white frosting! I still love that snack, but for obvious reasons (me eating the entire container in one sitting), I don't make it a habit of keeping frosting around.
I've been more aware of the food I have available for my kids to snack on recently. Mostly because they are famished when they get home, and if something isn't prepared, they will 100% of the time make a cheese quesadilla. Not that there is anything inherently wrong with cheese quesadillas, but because is there really anything good about them (besides the taste!)
Because we know that parents are always trying to think of healthy snack ideas for their kids, we put together a FREE printable for you
Some other foods they naturally reach for, that are all good choices include:
yogurt
fruit
string cheese
granola bars
cereal
Those are all pretty good, but are they filling? Sometimes. Can I help them have a more complete snack so they don't keep coming back into the kitchen all afternoon. Absolutely. Combining a carb with some protein is more filling, and we're all about balance here at Super Healthy Kids! Adding protein to your carb snacks gives the meal sustainability and staying power.
We've always seen snacking as a way to meet nutrient gaps from the day. If the day is half gone and no protein has been consumed, I always suggest a snack higher in protein. If no fruits or veggies have been eaten, then I suggest one of those!
The perfect snack to me, is one that has a little protein paired with some complex carbs. These can not only fill nutritional gaps in a teens diet, but they are also filling and satiating! Snacking on fruits and vegetables is the best healthy habit you can teach your children. As they begin to develop a palate for fruits and vegetables they will crave them more and more. Many times you just need to make it available and convenient for them! My friend Eliece started doing this a year ago. But she would buy the pre-cut trays from Costco, and then just pull it out of the fridge every night as she prepared dinner. It was a healthy behavior change that was good for everyone.
Why Carbs?
In the middle of a culture where carbs are being demonized by every diet guru out there, don't get sucked in! Carbs are not only good for kids, but they make the perfect snack! Carbohydrates (like fruits and grains) are the most readily source of energy available. Our body needs, loves, and wants carbohydrates. That's why they taste so great! Including whole food sources of carbs is the easy part of snacking!
Why Protein?
Adding some protein to your carbohydrate snack helps the sugar load balance throughout the day. Instead of a big dose of sugar, the presence of protein, fat, and fiber helps to slowly release that sugar so you can use that energy throughout the day. Protein is the basic building blocks of muscle tissue, vital for growing kids! Including proteins from sources like beans, nuts, seeds, and meats will be very satisfying and serve a purpose in your mid day meals.
Why Fat?
Fat is very satiating! From the beginning of time it has been included with natural foods to help us absorb the vital nutrients that are fat soluble, and protect our cells by building the membranes that surround the cells. Don't eliminate fat from your kids diets, but rather choose whole food sources of fats. Nuts, seeds, avocados, dairy, etc. are all great sources of fat.
If I have something out for them, they will most likely partake. So here are some ways to increase the nutrient values of our after school snacks.
Snacks to Prep Ahead
Check out the video below for some of these snacks that we like to prep ahead and have ready for the kids!
Trail Mix – to make this a perfect snack, make sure to include seeds or nuts as well as some dried fruit. This will have your balance of protein and fat from the nuts, and the healthy carbs from the dried fruit (like raisins!)
Homemade granola bars with nuts, seeds, and dried fruit. Just like the trail mix, include seeds, nuts, and dried fruit. but for the granola bars, you can also include oats, which are a great source of carbs.
Cubed fruit and cubed cheese on a skewer – this has always been a favorite snack for my kids. We love fruit and cheese together. Switch out the fruit you offer depending on which fruits are in season.
Apples with sliced cheese on top. We love apples, because you can generally get them year round. Kids love them because they taste great, they are sweet, and very filling! So much fiber! Pair your apples with some cheese for that extra fat and protein. We also like to slice our apples super thinly!
Veggies with a hummus dip- Hummus is easy to make (here's our recipe) and delicious to eat! We like it paired with bell peppers, carrots, or celery. Because hummus is made with chickpeas, it's a great source of protein, fat, and carbs!
Pita bread with hummus dip
Banana rolled in nuts, frozen for 15 minutes (with a stick in it). We took this banana, froze it first. Then rolled in yogurt, then rolled in nuts! Then, we re-froze it! Soooo delicious, and balanced!
Smoothies made with soy milk or yogurt- we love smoothies as a snack! You can add soy milk or almond milk for that extra kick of protein, add some coconut for the healthy fats, and then frozen fruit for the carbs!
Sliced hard boiled egg on whole wheat crackers – There ARE some crackers on the market that are perfectly healthy and low in sodium! We like rye crackers, and they taste great with sliced hard boiled egg on top.
Hard boiled egg with fruit. Again, eggs are great- they have the healthy fats, plus the protein. So, when you eat with some fruit, it makes a very balanced snack.
Pretzels and hummus- you can make some homemade pretzels that kids love! These are fun to make and when you add some hummus to it, the kids eat less pretzels because your snack is more balanced.
Baked corn chips with a bean dip
Cucumber & cheese sandwich! These are super fun for the kids, and yummy as well! You can add other things like crackers and lunch meat if you want to get more protein and fat in there.
Bell peppers with laughing cow cheeses- we got addicted to these laughing cow cheeses, and can't stop eating them with veggies like bell peppers! If you haven't had them yet, don't waste any more time. It makes every veggie taste AMAZING!
Turkey roll-ups- Simply roll some turkey meat around veggies like a carrot!
Snacks to Have on Hand
In the event you don't want to prep snacks (I totally get it!!) These are our go-to that the kids will eat if I have them on hand!
Yogurt with cereal or granola
lean meats with pretzels
Cottage Cheese and fruit
Apples + Peanut butter
Graham crackers & Yogurt
Rice cakes with peanut butter
So, hopefully you have a better handle on what snacks are going to be the best for kids, with a few ideas to make it happen! Let us know in the comments! Do you have a perfect snack for kids?
Want more snack recipes?? We have a FREE Printable for you to download with our 10 FAVORITES!! Get it here.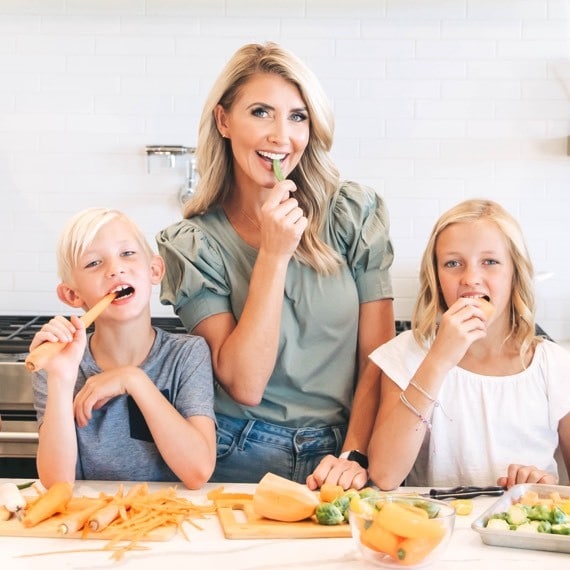 Natalie Monson
I'm a registered dietitian, mom of 4, avid lover of food and strong promoter of healthy habits. Here you will find lots of delicious recipes full of fruits and veggies, tips for getting your kids to eat better and become intuitive eaters and lots of resources for feeding your family.
Learn More about Natalie