Green Smoothies with Florida Orange Juice!
There is no question that green smoothies are perfect for kids, especially when you have picky eaters. It's a great way to get a full serving of fruits and vegetables, without having to beg or bribe! Almost every parent I know that has a picky eater, can get away with adding spinach to a morning smoothie, and kids will drink them! But spinach isn't the only healthy ingredient in a smoothie. We like to add a variety of fruits, including orange juice. The sweetness of the orange juice is enough to make our drinks taste delicious without the need to add a sweetener like granulated sugar, or even honey! That is why we almost always use pure orange juice every time we make a smoothie. Tropicana Pure Premium 100% Florida Orange Juice contains 2 servings of fruit for every 8 ounces and contains no sugar or preservatives!
I've had the privilege of working with Tropicana for almost as long as I've been blogging, and I love them! Some things you may not realize about Tropicana Pure Premium Orange Juice is:
All the oranges for their juice are grown in Florida!
Tropicana buys 11.6 BILLION oranges from Florida each year!
The growers in Florida check the fruit for ripeness by cutting the oranges and drinking the juice right from the skin like a cup!
Our go-to smoothie recipe is this:
6-7 Ice cubes
1 cup fresh baby spinach leaves
1/2 cup vanilla yogurt
1/2 banana
Then blend on high until smooth.
No matter what the season, we can always get our orange juice. (The different climates, soils, and variety of oranges in Florida allow for growing oranges all year long.) For variety, we add other fruits depending on what is in season. Right now we are adding strawberries! But we also like to add, peaches and apples in the fall!
Plus, look what I found: SMOOTHIE STRAWS!!
The Florida Orange growers have the most interesting job!! We had an orange and a lemon tree growing up, but I've never seen an entire orchard of oranges I would love to visit Florida and meet the orange growers. (Right now, Tropicana is actually giving away a trip for 3 to go visit the orchards in Florida!!) Anyway, Paul Fabray is a Florida Orange farmer (for 3 generations!). He has 3500 acres with some of the orange trees being more than 50 years old! He has raised two daughters on their orange fields, and had this to say:
"When my kids were little, they thought they'd pick oranges. So they took their little John Deere toy truck out and picked about a thousand golf-ball sized oranges."  
What a life! Can you imagine growing up on an orchard like that? You can also read more profiles from the growers here. Tropicana is really proud of the fact that their OJ is made from 100% Florida oranges!
Tropicana has some super fun things going on right now on their Facebook and Twitter pages! Check it out:
From March 19 through April 20, 2012, fans can visit Tropicana's Facebook page to enter to win one of 100 prizes. Prizes include:

· 99 one-year supplies of orange juice in the form of twelve (12) 59oz Tropicana Pure Premium containers
One trip to a Florida orange grove for a grand-prize winner and three (3) guests, o Behind-the-scenes experience at one of the Florida orange groves with the opportunity to meet growers, tour groves and discover the origins of their favorite For official rules and regulations, fans can visit the "sweeps" tab on Tropicana's Facebook page.
Also- April 5th is a twitter party! We'll be talking about the fresh Tropicana Pure Premium 100% Pure Florida Orange Juice, the growers behind the juice and the groves where the oranges are grown. We'll also talk about how your family starts the day together on a pure and fresh note, daily rituals that bring your family together, ways to bring the farm to your table, favorite Florida memories and more! Time: 4-5pm PST (7-8 EST) Hashtag: #TropFloridaOJ
---
How about your green smoothies? I want to hear all your smoothie combinations! Do you start with OJ too? What else do you add to make sure your kids are getting what they need? We really want more smoothie ideas!!
Disclosure: I have a formal relationship with Tropicana Pure Premium as a "TropiMomma" blogger. I was compensated for this post. All opinions remain 100% my own.
Our other OJ smoothies include,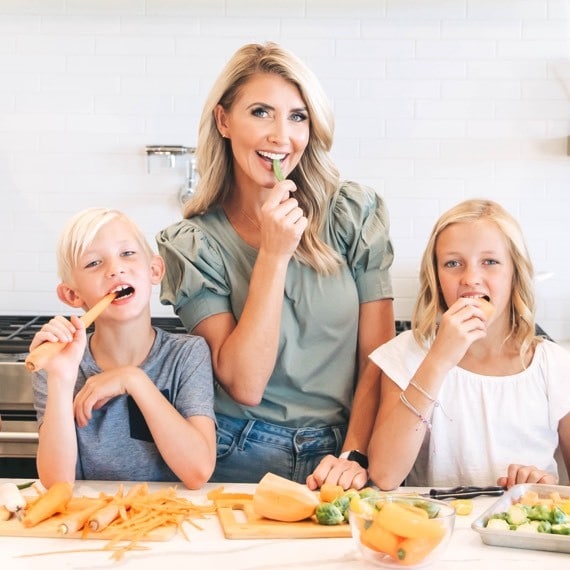 Natalie Monson
I'm a registered dietitian, mom of 4, avid lover of food and strong promoter of healthy habits. Here you will find lots of delicious recipes full of fruits and veggies, tips for getting your kids to eat better and become intuitive eaters and lots of resources for feeding your family.
Learn More about Natalie