Green beans are being harvested in right now!  If you grew them, you're probably wondering what to do with them. If you didn't grow them, they are going to be on sale and at their tastiest.  Green beans are great to add to your kids diet! They are an excellent source of Vitamin A, Vitamin C, Vitamin K and Manganese.  So, in looking over our site, we definitely don't have enough green bean ideas for your little ones!
Since my kids love finger food, and we love veggies that taste great with a dip, we decided to try Green Bean Fries.
We loved our green beans this way, breaded and baked. Don't worry that the breading won't stick to the green beans very well.  That would be too frustrating.  I tried a few different ways, but decided it wasn't worth the extra time to stress about it.  So, here is what we did:
Step 1: Our ingredients
1/2 cup buttermilk
1 egg
1/2 lb of green beans
Mixed the buttermilk with the egg, and soaked the green beans in the mixture for about 10 minutes in the fridge (hoping for a little extra sticking power).
Then, we arranged the green beans on a pan, lined with foil and sprayed with cooking spray (foil not necessary).
Then, we sprinkled the beans with salt and panko crumbs.
Then, place in oven at 400 degrees for about 10-15 minutes, or until panko starts to get golden brown.
Then, the most important and fun part for my kids, making Origami Fry Boxes!  ha ha.. My daughter actually sat down and made 30 of them!!  I asked her who will use all of them, and she just wanted to "save them for later". Whatever, she loves origami!
Then, fill your fry box and start snacking!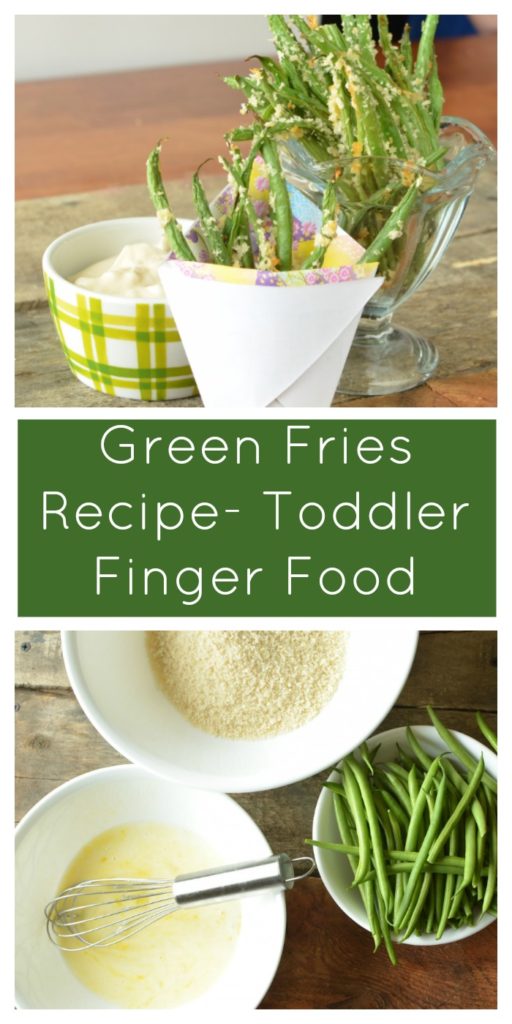 A PS- I had a dip that I thought would be delicious, but no one liked it. So, if you have any suggestions for a green bean fry dip, hit me up and we'll try it out!  Links and recipes welcome!
Want more french fry ideas?  Check out our Jicama Fries!
Come back Wednesday when Natalie teaches you how to preserve your green beans!