Fresh and Healthy Summer Picnic
Hop over to our radio chat about picnics TODAY (May 29) at 1pm ET on W4n Radio
After a long and exhausting run on our homemade slip and slide, these kids had HUGE appetites! Rather than coming inside for lunch on a gorgeous day, I brought a picnic lunch to them.
Outdoor picnics don't have to be filled with fried chicken and potato salad though. The key to a fresh and healthy picnic is to plan for your fruits and vegetables fruit! Just like other balanced meals, when you start with the fruits and vegetables, they become the main dish, rather than the side.
Our fresh and healthy veggies first! We have three requirements.
The vegetables be hardy (rather than fragile)
two, you don't need a fork to eat them
and three, they taste great dipped in hummus!
So, I cut carrots, cucumbers, bell peppers, and tossed in some cherry tomatoes because they love them.
This adorable girl went straight for the carrots and dipped them in our hummus.
Second, the fruit! A melon salad just says SUMMER! Does it not? We like fruit that is super hydrating and has that thirst quenching factor.
Our melon salad included:
1/2 watermelon, scooped into balls
1 honeydew, scooped into balls
1 cantaloupe, scooped into balls
1/2 lb green grapes (removed from stem)
2 mint leaves, just for flavor
Most fruit works great for picnics. We just make sure we wash, peel, and prep them before we get outside. For our melon salad, make sure the kids have a fork or toothpicks to pick up the fruit.
And to top off our fresh picnic, we love sandwiches, made with whole wheat bread and a nut butter for that much needed protein! We chose almond butter and strawberries. We also added some trail mix for some staying power as well.
Whether you take your picnic to the pool, on a hike, to the park, or just in your backyard, make sure you plan for the fruits and vegetables first! What fresh and healthy foods will you include with your picnic?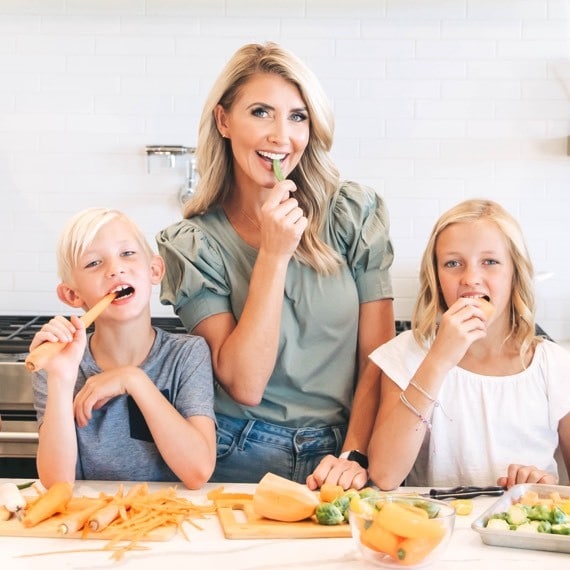 Natalie Monson
I'm a registered dietitian, mom of 4, avid lover of food and strong promoter of healthy habits. Here you will find lots of delicious recipes full of fruits and veggies, tips for getting your kids to eat better and become intuitive eaters and lots of resources for feeding your family.
Learn More about Natalie