Dole Date Almond Energy Bar Recipe- Sports Nutrition
This week we are talking about sports nutrition, and keeping kids fit! Follow our conversation in social media at #fitkidsfood. Today, I have the perfect energy bar for kids involved with competitive sports. (Even if you aren't in sports, you're going to want to make these! They are amazing!)
First of all, our go-to snacks for kids that need extra energy has always been Almonds and Dates. They are portable, filling, not too expensive, and my kids have always like them. Not only are they an easy addition to any backpack, they are also full of nutrients necessary for that competitive edge.
Almonds
Almonds are a very good source of manganese and copper, two trace minerals that are essential cofactors of a key oxidative enzyme called superoxide dismutase. Superoxide dismutase disarms free radicals produced within the mitochondria (the energy production factories within our cells), thus keeping our energy flowing. Fortunately, Mother Nature supplies both mineral cofactors in almonds. Riboflavin (vitamin B2) also plays at least two important roles in the body's energy production. (Source)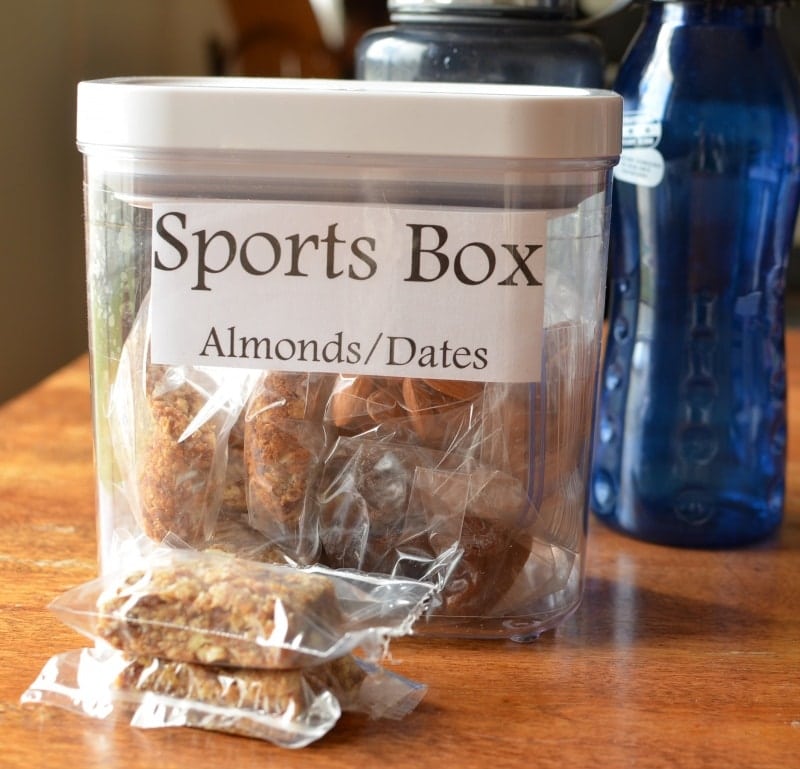 Dates
Dates are an energy-dense food packed with carbohydrates including sucrose, fructose and glucose. The European Food Information Council notes that these natural sugars make fresh and dried dates a good food for boosting energy quickly. According to the USDA Nutrient Database, 100 grams of dates — about 4 or 5 medium-sized dates — contain approximately 75 grams of carbohydrates and 1.81 grams of protein, which together provide 277 kilocalories. (Source)
During a recent trip to the California Health & Longevity Institute, these Dole Date Almond Energy Bars were on the menu for breakfast. Of all the amazing food that came out of that kitchen, this was my absolute favorite recipe! My little soccer player was already eating almonds and dates for games, so I absolutely couldn't wait to make these bars for my little athlete.
So, in addition to feeding your athletes almonds and dates- considering using this Dole Date Almond Energy Bar Recipe and making them for their backpacks as well! *Full recipe below.
These bars have been the perfect alternative to the plain dates and almonds my little soccer player normally takes in his backpack. We even portioned them out so he could have them in single servings. So much better than fruit snacks and fake juices as a sports snack!
---
The Dole Event!
It's no secret I'm a fan of the Dole Brand. We are not sponsored by Dole (or any other company for that matter), but when the opportunity came up for me to visit their headquarters in California, I immediately said yes. Dole Foods are an easy way to add fruits and vegetables to our kids diets. Their foods are 99% GMO Free (which they will begin adding to their labels this year). Their packaged foods are a great way to get whole fruits, without added sugar. Their frozen fruits, dried, and canned fruits can all can be found without chemicals or sugar.
There is absolutely a difference between industrial foods and packaged or processed foods. We actually include some packaged foods (like the ones below) in our home for convenience, although we stay away from industrial foods (foods that can only be made in a lab or manufacturing plant using chemicals and preservatives). Some of our favorite Dole packaged foods include their dates, which we used for the Energy bars of course.
smoothies
And a new product they have, which we taste tested at the Dole headquarters, Squish-ems. Which are literally only fruit! These are perfect snack for your little ones on the go, at the park, in your swim bag, etc.
Lastly, if you are interested in cooking contests, Dole has an annual cook-off that is worth $25,000! They just launched their new contest and you can check it out here.
Ingredients
1 1/4

cup

quick oats, dry

3

tablespoons

whole wheat flour

1/3

cup

wheat germ

1/2

cup

slivered almonds

1/2

teaspoon

cinnamon

1/2

teaspoon

sea salt

3/4

cup

dole whole pitted dates, chopped

1/4

cup

honey

1/4

cup

olive oil

1/4

cup

almond butter

1/4

teaspoon

almond extract

1/2

teaspoon

orange zest
Instructions
Line an 8X8 inch pan with parchment paper with an overlap on each side of pan.

In a large bowl, mix together the oats, flour, wheat germ, almonds, cinnamon and salt. Mix in the dates.

In another bowl, thoroughly whisk the honey, olive oil, almond butter, almond extract, and zest.

Pour the wet ingredients into the dry and mix well.

Spread the batter into the prepared pan, pack firmly into pan.

Bake for 20-25 minutes or until brown at the edges.

Remove from oven and let cool for 15 minutes. Using the overlap of parchment, lift bars out of pan. Place on rack and cool completely. Cut into 12 squares.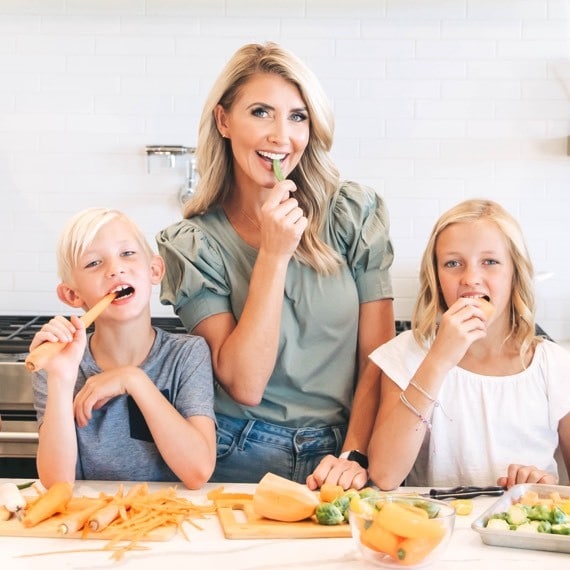 Natalie Monson
I'm a registered dietitian, mom of 4, avid lover of food and strong promoter of healthy habits. Here you will find lots of delicious recipes full of fruits and veggies, tips for getting your kids to eat better and become intuitive eaters and lots of resources for feeding your family.
Learn More about Natalie