Dinner in Japan- It takes time!
I had to be at church for most of Sunday, so my husband made dinner.  Our Japanese friends were so surprised to see him making dinner!  They said, "Why is Wade making dinner, he's the father!!"  In their culture, father's do not take part in meal preparation in Japan, so to see Wade make dinner, was culture shock for them.
So, here is what I've learned about dinner in Japan for Anna and Fumiko:
Despite being working mom's, Japanese mother's spend a good portion of their time at home in meal preparation! And what they spend most of their time doing, chopping and cooking vegetables! Kind of makes me feel guilty for trying to get in and out of the kitchen as quickly as I can.
Children help with preparing dinner if they are not at clubs (like soccer or tutoring). Starting at age 6, Anna helped her mom with dinner preparations. She would cut vegetables, wash dishes, or set a table.
Although the fathers do not participate in preparing meals, the boys in the family (brothers) did help in the kitchen as children.
When they have salads, they use lettuce, tomato, corn, tuna, with either a French dressing, a soy sauce dressing, or mayonnaise! Straight- plain- mayo! I couldn't believe it! They even added mayo to their taco's at our house!
They never drink juice or soda. Always milk, tea, or water.
I love that they spend more time preparing dinner. They said they chop their vegetables very tiny! When Anna made dinner for us, this is how she chopped our carrots for this meal:
I could not believe how she was able to cut the carrots so finely! It takes time to do that.
Here is one of the recipes they prepared while they've been here. They called them pancakes. If you make it, I don't recommend calling them pancakes..TJ was quite disappointed that they didn't taste like pancakes!
OKONOMI-YAKI
(As you like it- pancakes)
2 sausage links, chopped (or any other meat)

1 head of cabbage, chopped

3 carrots, chopped

1 cup flour

3/4 cup water

3 eggs

salt to taste
Mix all ingredients together. Pour batter onto skillet like pancakes. Flip and cook on both sides until browned. Top with Okinomi-yaki sauce (or BBQ sauce if you don't have any Okinomi-yaki sauce) and mayonnaise (which we did not use)
They served the pancakes with noodles and vegetables, which I could not get a recipe for, because they brought packaged noodles with an accompanying seasoning packet from Japan… but it was DELICIOUS!! Even this cutie liked it!
(While I was taking pictures for the noodle dish, I put the chop-sticks in the bowl. Anna and Fumiko quickly ran over and took them out, informing me that by placing the chop sticks inside the dish, it implied it was a meal prepared for the dead… oops!)
Thanks for sharing your own Japanese experiences! Anna and Fumiko have loved reading your comments!!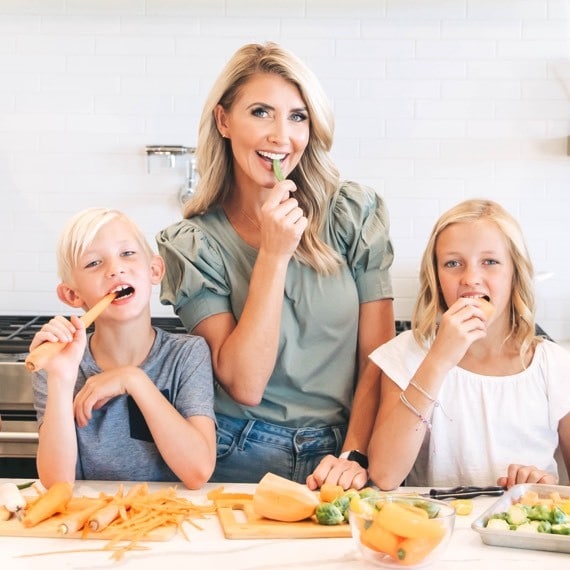 Natalie Monson
I'm a registered dietitian, mom of 4, avid lover of food and strong promoter of healthy habits. Here you will find lots of delicious recipes full of fruits and veggies, tips for getting your kids to eat better and become intuitive eaters and lots of resources for feeding your family.
Learn More about Natalie