Day 1: Where is your Fruit Basket
The first step to helping your kids eat more fruits and vegetables is to make it accesible to them. Do you keep your fruit basket on the counter where they can't reach it. If you don't want them getting snacks themselves, is it in their line of sight where they can see it and ask you for it.
I keep my fruit basket on the counter because all my kids can reach it.  They definitely can all see it.  Even friends, neighbors, and cousins see the fruit basket and will often ask if they can have something from it.  My friends little boy the other day saw the bananas and asked his mom if he could have one.  My niece always see's our apples and wants them.  I actually really like it when any child asks for fruit from my basket, I feel in some way I'm helping the entire generation enjoy being healthy…. Even though the adorable niece will only take a couple of bites and then leave it somewhere in my house to find a few days later. 🙂
Cut vegetables up and place them in the fridge where they can get them or you can pull them out quickly. If I'm cooking dinner, and the kids are starving because they are always starving, and I tell them, "You kids don't know what starving is! You haven't starved a day in your entire life. Some kids don't get food for days, now they are the ones who are starving!" Back to the point…. When they are starving, I pull out the bowl of chopped carrots and broccoli, and let them have at it while I am preparing dinner. Easy and accesible. I'll admit though they usually won't snack on the vegetables because all of a suddent they aren't as hungryas they were before I offered veggies as a solution.
When you send fruits and vegetables in their lunch boxes as school, can they eat them. I've sent oranges they couldn't peel, I've sent apples they couldn't eat (because of a loose tooth), I've sent bananas that go brown and they are to embarrased to eat, I've sent pears that have gotten beaten up and bruised before 11am lunch. I've sent canned bowls of fruit they don't have a fork for. You get the idea. Make it easy for them to eat it. Cut the apple if you have to and add a few drops of lemon juice to keep it fresh. Peel the orange ahead of time and make sure to include napkins.
Talk to your kids. Ask them what keeps them from eating the fruit and vegetables you buy. Ask them what will make it easier for them to eat it. If they are too young to tell you, observe them while they notice the fruits and vegetables. Find out what's difficult for them and what works.
Day 4-Dress it Up
Day 5-Enlist the Forces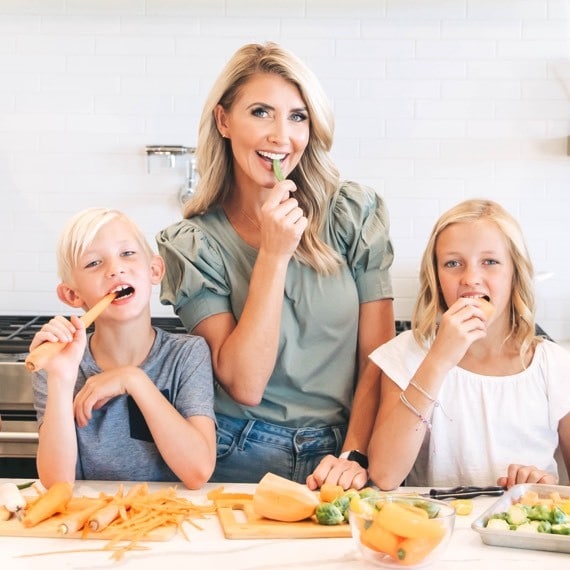 Natalie Monson
I'm a registered dietitian, mom of 4, avid lover of food and strong promoter of healthy habits. Here you will find lots of delicious recipes full of fruits and veggies, tips for getting your kids to eat better and become intuitive eaters and lots of resources for feeding your family.
Learn More about Natalie