Crunchy Tomato Snack Bites
Do you remember being little and time seemed to pass by so slowly! I remember waiting for each holiday to come and I thought I would die with anticipation. My girls are just starting to get old enough where they understand what each holiday is and get really excited leading up to it. I think this is one of my favorite parts of being a parent – watching your children enjoy fun experiences and also creating memories and traditions for them. Food always seems to be a part of those memories and traditions that we adopt as children and carry with us as adults.
I can still remember certain foods that my mom would make for us around each holiday and have kept some of those same traditions. It is also fun to try new things and experiment with different foods for your own children. This is where the invention of this Halloween snack came to be.
My little Sophie LOVES tomatoes. Of all varieties. Big, small, red, orange, you name it. I thought it might be fun to dress these little tomatoes up a bit because they reminded me of miniature pumpkins. And who doesn't love little mini things!?!
The first step is to find some cute toothpicks, or long skewers would be cool too. Poke them through the top where the stem would be.
Then I needed to decide what to dip these little maters' in. Homemade Ranch! Every kid loves ranch right? And for the crunch…………Chia seeds. They are little, crunchy, and packed full of nutrition!
Sophie had just woken up from a nap when I finished making these. She was quite excited to try these little snacks. Although – she did think it was some kind of popsicle at first……….
And voila. 5 minutes later you have your beautiful 'mini-pumpkin/tomato' snack.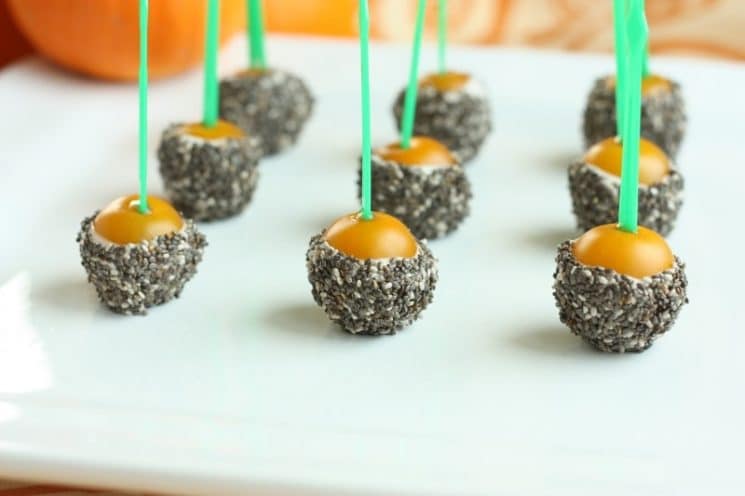 After school snack? Check. Halloween party appetizer? Check.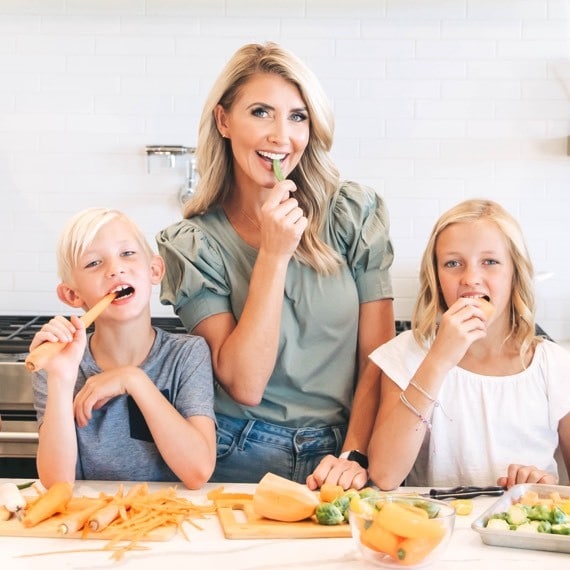 Natalie Monson
I'm a registered dietitian, mom of 4, avid lover of food and strong promoter of healthy habits. Here you will find lots of delicious recipes full of fruits and veggies, tips for getting your kids to eat better and become intuitive eaters and lots of resources for feeding your family.
Learn More about Natalie