This authentic falafel recipe uses soaked ground chickpeas and loads of fresh herbs and spices to create crispy, irresistible patties that are nutritious, too.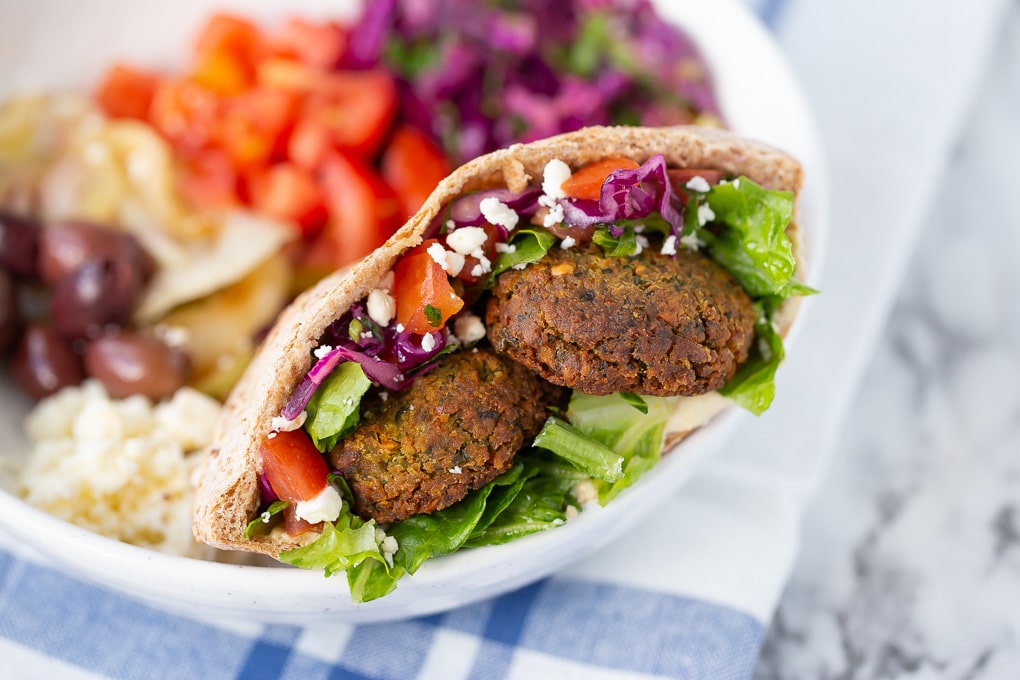 Do your kids like Middle Eastern food? Maybe they're die-hard hummus fans. Maybe they can't keep their hands off your plate at the Middle Eastern restaurant. Or maybe you have no idea if they like Middle Eastern food, because kids are an endless well of surprises when it comes to their food preferences.
Whatever your background and theirs, we invite you to try this crunchy, delicious, and nutritious homemade falafel recipe. Because it tastes as fresh as can be, and it's filled with the best, whole-food ingredients.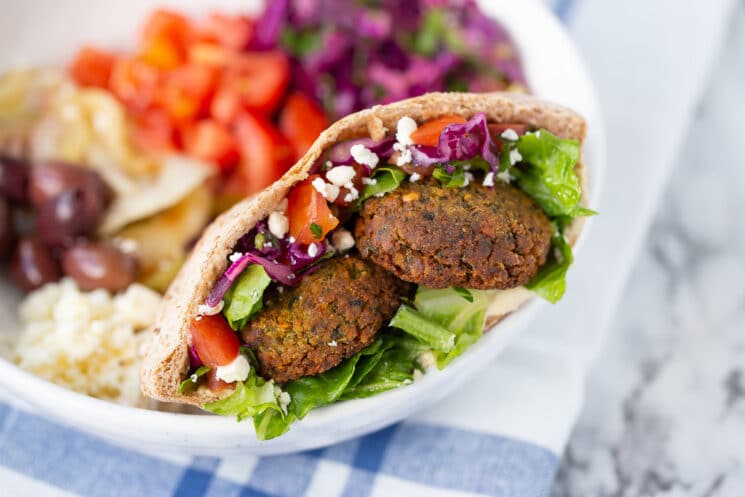 Falafel is Fried… So Is it Healthy?
Eating fried foods is linked to heart disease, obesity, and even early death. Sounds scary, right? But not all fried foods affect our health the same way. Differences in how foods are fried and what they're fried in can change the health equation quite a lot when it comes to fried foods!
Here's what makes this falafel recipe a healthy dish, EVEN though the patties are fried.
First, they're PAN fried, not deep fried. That means they absorb less oil while they're cooking.
Second, they're cooked in canola oil, not hydrogenated fat. Canola oil may not be as nutritious as extra-virgin olive oil, but it's a definite improvement over trans fats often used at fast food restaurants.
Finally, the nutrition in a dish doesn't begin and end with the cooking method. With these falafel, you're serving up heart-healthy legumes packed with protein and fiber, plus vitamin-rich herbs and spices that are great for you and your kids.
So don't skip out on falafel just because it's fried. Eat in balance, and enjoy! And if you're still really wigged out about frying your food… no worries. We've included recipe directions for baking these yummy falafel, too.
Here's How Easy it is to Make Falafel
Falafel is way easier to make than you think. Basically there are only three steps, and the first one requires no effort! Here's what you're going to do:
Put your dried chickpeas in a giant bowl of water and forget about them for about 8 hours.
Drain the chickpeas, and grind them up in a food processor with ALL the other ingredients.
Form patties with your hands, and fry them in a skillet. Done!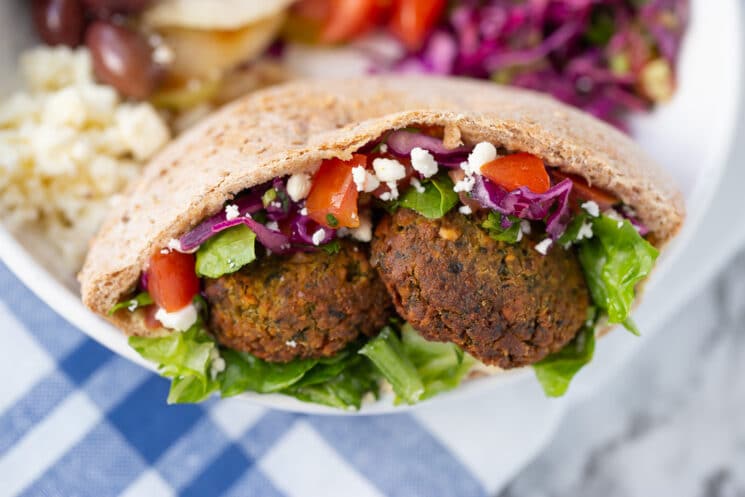 Can I Use Canned Chickpeas in This Recipe?
We have to stand firm on this point: canned chickpeas will NOT work in this recipe. You need to start with soaked raw chickpeas in order to get the crispy, fluffy texture you really want in falafel. Canned or cooked chickpeas will leave you with a sloppy, pasty falafel. Stick to soaked raw chickpeas!
Note: you won't actually be eating raw chickpeas, so you don't need to be concerned about any weirdness there. The chickpeas do get cooked right in the skillet when you fry the falafel.
Serving Tips
Once you have a plateful of hot, crispy falafel on your table, do a little dance. Because you have some awesomely tasty meal options at your fingertips.
If your kids love dipping things, you can serve the falafel as is with a dish of cold yogurt or hummus for dipping. (You can even try an all-American dip like ranch or ketchup, we won't tell!)
Falafel also taste famously good stuffed in a pita with salad fixings like:
chopped romaine
chopped tomatoes
feta cheese
shredded carrots
a smear of hummus
tahini
yogurt or sour cream
Greek dressing
Kalamata olives
red onions
thinly sliced red bell peppers
Let your kids pick and choose what they want to add.
Its so easy to prepare and is simply a matter of mixing the ingredients together in a food processor, forming the patties and then frying or baking them. My toddler son eats these even during his fussy moments and I couldn't recommend them highly enough as a healthy finger food .
Can I Freeze Falafel?
Yes! You can freeze these falafel in one of two ways:
Blend up extra chickpea mixture and freeze in a zip-top freezer bag. Defrost, shape into patties, and fry as usual.
OR
Freeze fully-cooked patties and reheat in a 375 F oven for 15 minutes or until heated through.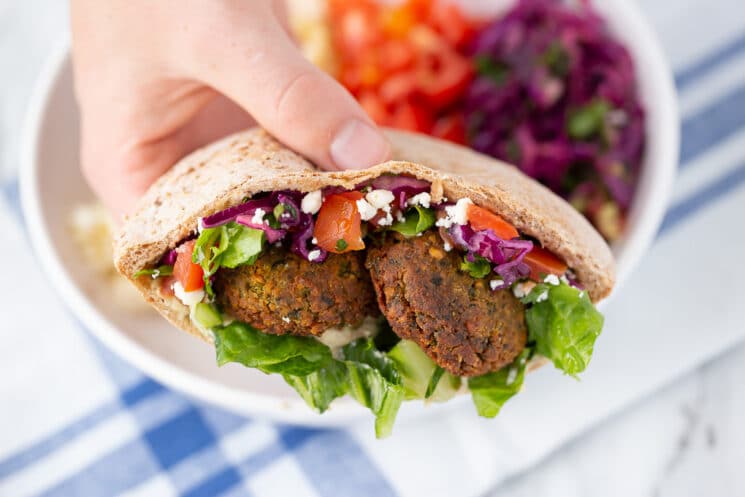 More Chickpea Recipes
Crunchy Falafel
This authentic falafel recipe uses soaked ground chickpeas and loads of fresh herbs and spices to create crispy, irresistible patties that are nutritious, too.
Instructions
Drain and wash the soaked, uncooked chickpeas thoroughly and blend it well in a food processor with the rest of the ingredients until it turns into a coarse pastry. The texture of the chickpea mixture should be firm enough to easily hold its shape.

(If the mixture it too loose, add some breadcrumbs or wheat flour to the pastry. If the mixture it it too firm, add a touch more olive oil.)

Form the falafel into small balls or flat mini burgers it's up to you. (Just avoid making the patties too thick, or it will be difficult to cook them ell the way through.)

Heat the oil in a small or medium sized sauce pan and fry them until the surface becomes crispy (around 5 min). Flip and fry until crispy and cooked through.

For a baking option  – preheat the oven to 375 and place the falafels on a baking sheet. Drizzle the falafels with olive oil on both sides. Bake for a total of 30-40 minutes, flipping once at the halfway through the cooking process. The longer you bake them the firmer they'll become.
Notes
Note: Please do not substitute the soaked raw chickpeas with canned or cooked chickpeas. Your falafel will be overly moist and pasty in the middle.
Nutrition
Calories:
247
kcal
|
Carbohydrates:
22
g
|
Protein:
7
g
|
Fat:
16
g
|
Sodium:
652
mg
|
Fiber:
7
g
|
Sugar:
2
g
www.superhealthykids.com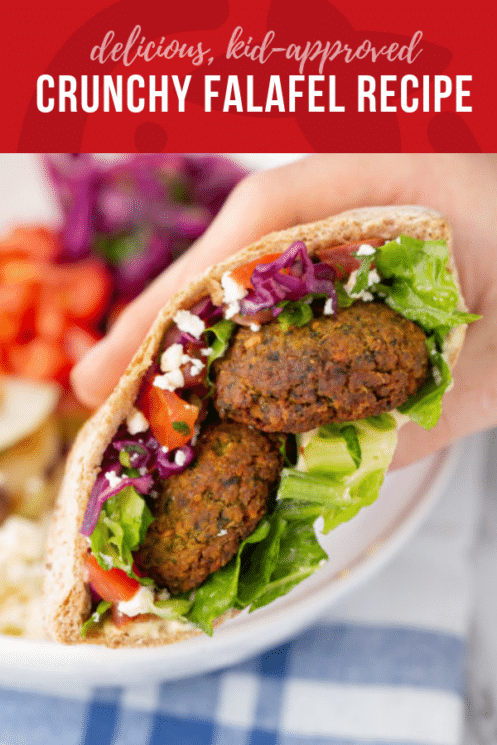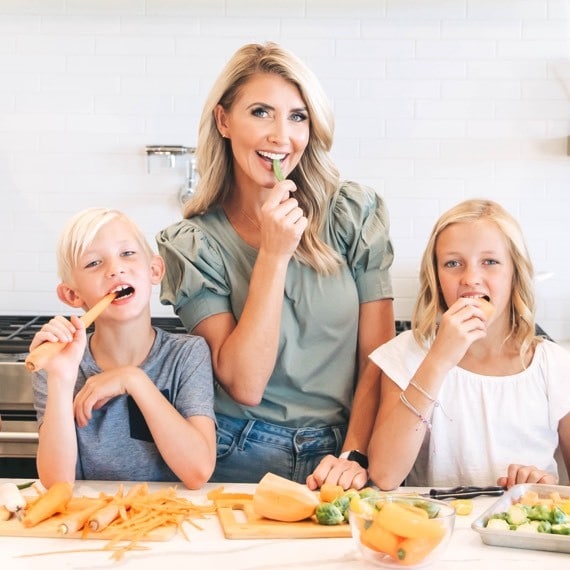 Natalie Monson
I'm a registered dietitian, mom of 4, avid lover of food and strong promoter of healthy habits. Here you will find lots of delicious recipes full of fruits and veggies, tips for getting your kids to eat better and become intuitive eaters and lots of resources for feeding your family.
Learn More about Natalie