I offered Four, 9 year old girls some of this Bruschetta, and all four gave it the thumbs up. They even came back for seconds!  I was worried it would be a a little too fancy for my kids (since we are as UN-Fancy as they come).  But I presented it as "It's kind of like "toast-pizza", and they were all over it.
My hidden reason for mixing up some of this was for the GARLIC!!  Garlic contains Allicin, which is shown to be a powerful antibacterial and antiviral agent!  And of course is Garlic vital in fending off Vampires!  Unless you don't want to fend off certain vampires…you know who you are.
So, the recipe:
In a small bowl combine:
1/2 cup olive oil
some oregeno (I used dry)
some basil (I used fresh)
some rosemary (I used fresh)
and pressed garlic (I used 4 cloves)
Salt and pepper
Then I took some toasted whole wheat toast. Spread the olive oil mixture on top.
Topped with finely chopped tomatoes and a Parmesan/ Asiago cheese blend. I then re-toasted in the oven for just a minute, while the cheese melted a bit.
The verdict: Cute neighbor girl to the right of Erica said, "I want my mom to have this recipe!" So, here you are!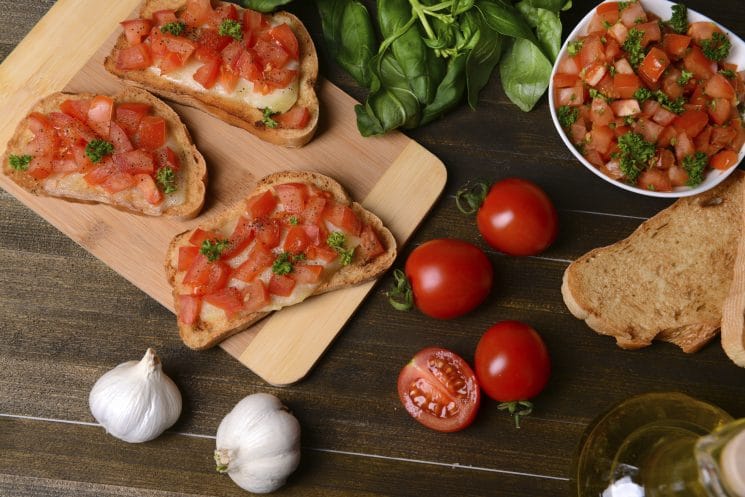 MMMM.. This post made me think of this VERY OLD post, where we dipped bread in balsamic vinegar and olive oil.  YUMMY!
Boy, I sure feel like I'm doing just about anything (like blogging) to NOT write a Biochemistry paper.  I'm struggling here.  I've got 650 words and it is supposed to be 1000, and I literally have nothing else to say!  And it's due tomorrow!!