Beyond hydration: Portable drinks with benefits!
Ripple Foods Nutritious Pea Milk is a Dairy free alternative that's high in protein and low in sugar!
We talk a lot at Super Healthy Kids about what to pack for school lunch, but we never talk about what to pack for our kids to drink! Even when my kids bring lunch from home, I'll sometimes send them with a quarter to buy milk. They like to have something other than water, and sending a quarter to school for a drink seemed like an easy thing to do, especially when I didn't want to send milk and have it get warm in their backpack!
Sending drinks to school has two purposes for me. First, to hydrate! But second, for extra nutrients in their day! Milk has been a solid choice for the kids, as I was happy for them to get a little extra protein, as well as vitamin D (even though they kept choosing chocolate!). We also like 100% fruit juice. Although missing the fiber, fruit juices or vegetable juices does have some nutrients, and is a great source of energy. Water is an easy choice for hydration, but in the middle of the day, when kids might not be eating all their food, water isn't going to give them micronutrients, protein or energy. Sports drinks, although they offer hydration, are completely lacking in the nutrients category, and are often made with chemicals, preservatives and dyes!
In the last few years however, an entire new category of drinks have become more popular. Dairy Free Milks! These have been a life saver for families with a dairy allergy, vegans, and parents who just want a healthier alternative to milk. Growing kids need calcium, vitamin D, and protein, and these drinks can generally deliver!
When Ripple Foods contacted us about trying their pea milk, we were a bit hesitant, as you can imagine! Almond milk and coconut milk has been on the scene as alternatives long enough that the flavor has improved significantly over the years. Milk made from dried peas caused me to pause and wonder if it could even taste good! But, we learned, you don't need to be scared off by "pea milk". Ripple has a proprietary technology to extract the protein from peas that produces the cleanest, purest plant protein you can find. No beany flavor. Here's a video to explain the process: Ripptein. After finding out both Almond milk, coconut milk and even cashew milk only had 1 or 0 grams of protein, I was so happy to hear there was another drink to choose! Here are the other comparisons I did with the different milks.
Almond Milk
30 calories, 1 gram of Protein (for 8 ounces)
Can be fortified with vitamin D and calcium.
0 grams of sugar (unsweetened),
Tastes great.
Uses: Smoothies, on cereal, baked goods, ice cream, soups, oatmeal!
Coconut milk
50 calories and 0 grams Protein
Can be fortified with calcium and vitamin D
0 grams of sugar (unsweetened)
Tastes great!
Uses: Smoothies, cooking, yogurt, whipped cream, etc.
Soy milk
80 calories and 7 grams Protein (for 8 ounces)
Can be fortified with vitamin D and calcium
1 gram of sugar (unsweetened)
Taste good.
Uses: Smoothies, cereal, oatmeal, baked goods.
Pea milk
100 calories and 8 grams of Protein
Fortified with vitamin D and calcium
Shelf stable for portability!
6 grams sugar
Tastes GREAT!
Uses: Soups, smoothies, cereal, oatmeal, baked goods, cooking, french toast, mashed potatoes, cheesecake!!
Somewhat of a newcomer in the dairy-free milks is PEA MILK! Who knew that this protein powerhouse could be made into delicious, high protein, plant based milk! Dried peas are an excellent, nutrient dense pulse. Drinks made from peas are easily digestible, and very few kids have an allergy to peas. Studies show peas activate the release of a hormone that keeps kids full between meals.
Check the store locator to find this drink in a store near you. It's available in vanilla, chocolate, and unsweetened.
If you choose to try Ripple Dairy Free Milk, let us know what you think! It's not only perfect for kids who need an alternative, but it's also a sustainable choice. Ripple takes a LOT less water to make and produces a fraction of the emissions to our air than dairy and almond milks. Hooray for green living!
Share!
Sponsored by Ripple. All content and opinions are ours!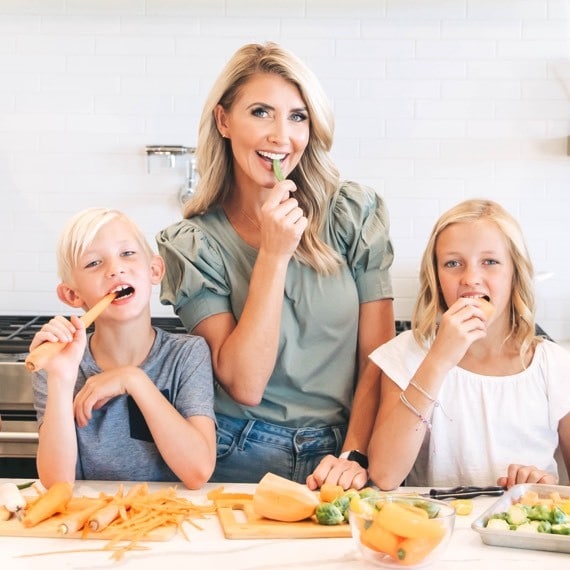 Natalie Monson
I'm a registered dietitian, mom of 4, avid lover of food and strong promoter of healthy habits. Here you will find lots of delicious recipes full of fruits and veggies, tips for getting your kids to eat better and become intuitive eaters and lots of resources for feeding your family.
Learn More about Natalie