The Best SkinCare Line for Baby
When your baby is first born, you immediately have an instinct to protect them. The feeling of love and bonding when their tiny hand grabs hold of your finger is strong and you would do anything for that baby. The great thing about a newborn is that the things you need to protect them from and provide for them are simple. Food, shelter and love is all you need right? Well anyone who has had a baby knows that it is a bit more than that.
One of the things that is important to protect is their delicate skin. I recently had my fourth baby and there is nothing softer or better smelling than the soft, silky skin of a newborn baby. And I like to keep it that way for as long as possible. When it comes to washing, soaps, lotions and creams, which ones out there are best for your baby's skin? How can you avoid harsh chemicals or scents that irritate or dry out your baby's skin? This is a picture of my little guy when he was just 5 days old. So sweet.
There are a lot of great products out there, but we recently found one that fits the bill for the concerns you might have in a skincare product for your baby. It is called Baby Mantra.
Made in the U.S.A from only top quality all-natural and organic ingredients
Rated "1" on EWG's Skin Deep R
Certified by the Natural Products Association PETA Certified – Cruelty Free
NO sulfates, parabens, phthalates,
NO Dyes or artificial fragrances
Gluten Free and allergy tested
Their full product line has all the products you need through all the stages of your baby. From newborn to toddler, these products help you to know that you are doing everything to protect your baby's skin. One of my daughter's has eczema and extremely sensitive skin. Even though she isn't a baby anymore, I love using these products on her sensitive skin.
I have loved using the newborn shampoo and body wash on my little guy. It is super gentle and has a really great natural scent.
For after the bath or anytime, the calming lotion is so great. A crying baby can be stressful, especially in the evening. Creating a routine at night that includes a bath and then gentle massage with either a lotion or an oil can be a great way to decrease crying and fussiness for your baby.
As your baby gets bigger, the bubble bath which also is a shampoo and body wash is a great step up from the newborn wash. If you are one of those lucky parents who has a baby with lots of long locks, then the detangling conditioner is right up your alley!
Protecting your baby's skin and keeping it soft and healthy is easy when you use the right products. Baby Mantra products are definitely a line that I trust
---
These products are available on Baby Mantra, Amazon, and Costco.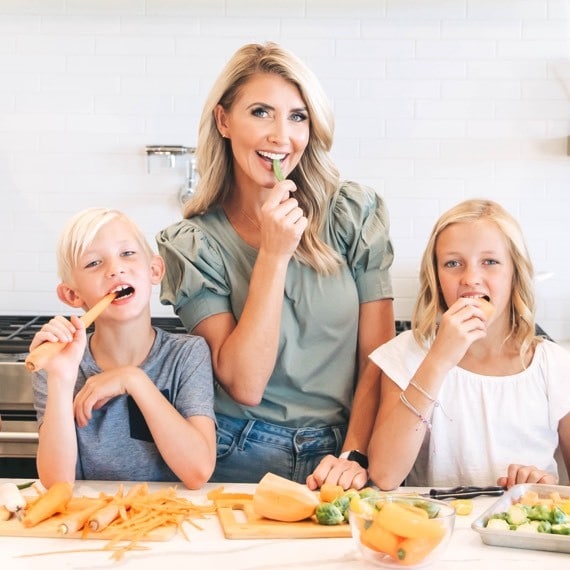 Natalie Monson
I'm a registered dietitian, mom of 4, avid lover of food and strong promoter of healthy habits. Here you will find lots of delicious recipes full of fruits and veggies, tips for getting your kids to eat better and become intuitive eaters and lots of resources for feeding your family.
Learn More about Natalie