We usually don't buy arugula.  Sometimes, I can't even remember what it looks like!  But arugula is a super food!  All cruciferous veggies (not just lettuce and spinach) should be part of a healthy diet.  Studies show, as cruciferous vegetable intake goes up by 20%, cancer rates drop by 40%! (source).  Eating a variety of them has it's own benefits.  These cruciferous veggies that are so protective include:
Arugula
Spinach
Bok Choy
Kale
Collard Greens
Cabbage and more!
I'm going to make it my new mission to find more kid friendly recipes for a variety of greens.  Some of them are so much more bitter than others, and Arugula has been described as "spicy".  Spinach however has a mild flavor, which is why we use it more than any others. I've been scared to use arugula in cooking, and serve to my children, because the taste is so strong.  The other day however, out of the blue, I won a bag of Arugula! Ha, ha. Really!  Who gives away greens?  I entered a local blog giveaway sponsored by a farm in Provo, UT called La Nay Ferme and won! So, on Monday, I brought my kids to pick up our goods. I was fascinated that there was a farm that could grow anything in the winter, and I couldn't wait to see it.
The kids at La Nay Ferme
The green houses
So, I did what any blogger would do, I asked on Facebook what I should do with our new big bag of Arugula!  Here were 20 ideas from readers, that I'm pretty sure my kids would go for:
PESTO (Many people recommended this, and I knew it would go over well over here!
Arugula Pizza!  (Of course!)
In salad, mixed with other greens like spinach.
Smoothies!
Lemon juice, olive oil & pinch of sea salt with lots of fresh, chopped vegetables…
Love this one: "We put it on grilled cheese sandwiches with thinly sliced apples. The sweet apples balance out the bitter arugula"
Citrus vinaigrette with beets and chicken!
We make it with some homemade cavatelli! Delicious! Throw it in with the pasta at the very end…. Yummy!
I have my after school culinary kids make pulled chicken with peach tomato salsa grilled torta finished with arugula (Sean Karaffa)
Mix it with brown rice and toasted nuts of some sort.
Soup
Avocado, sliced almonds, salt pepper, lemon juice ,olive oil
My girls love it with sweet strawberries, red bell peppers, walnuts, shaved Parmesan and citrus vinaigrette! YUMMY!!
Sandwiches and wraps

There is a delicious recipe on 

Skinnytaste for panko chicken with arugula, tomato and balsamic salad that my daughter loves. (maybe this one?)
A little olive oil and some sea salt my son loves it just like that.
Pulled pork cilantro sour cream grilled torta finished w/arugula and pickled red onion. Yummy!

Arugula salad w/ Gorgonzola, candied pecans, and pears with a simple lemon and olive oil dressing.

Mix it with baby spinach, kale, and chard. Add Gorgonzola cheese, raw almonds, dried cherry's, a little oil and vinegar, voila! So good!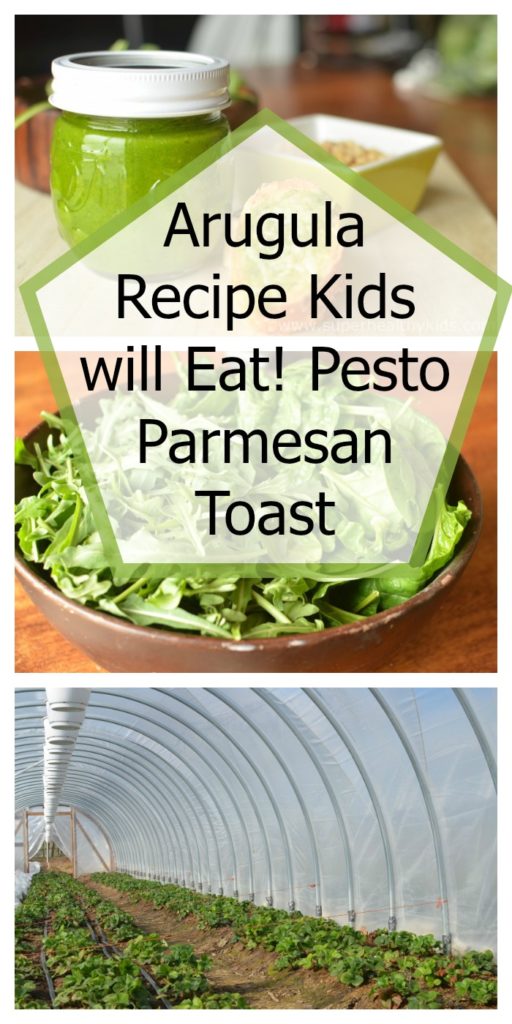 So, at  the end of the day, and with little time left, we made pesto!! La Nay Ferme has a recipe here, and we happened to have some pinenuts!  You can use any pesto recipe and substitute the basil for arugula.  Delicious (recipe below).  Then, we spread it on a multi-grain baguette and toasted in the oven with some extra Parmesan cheese!