4 Features of a Healthy Snack Habit
Learn why the quality of snacks deserves our focus, and help your kids thrive with a healthier snack habit!
For more healthy snack inspiration, check out 50 Low Sugar Snacks for Kids and 15 Healthy After School Snacks.
It's so easy to focus on dinner as the main source of nutrition for your kids. But kids today get more than a quarter of their daily calories from snacks. That's a lot!
And because we're often on-the-go, and tempted to cater to kids' preferences, those snack calories
tend to come in the form of salty packaged snacks and sweet treats.
In a perfect world, snacks should be just as nourishing as family dinners. Here's why:
Balanced snacking keeps kids from asking for more snacks every ten minutes. (Major frustration-buster!)

Healthy snacks, rather than "treat foods," interfere less with kids' appetites at mealtimes. (They won't save their appetite in anticipation of a treat.)

Kids learn what a "normal" snack looks like from us!
So what can we do to make sure the snacks we offer our kids are helping them grow and thrive? We can recognize how big a role snacks play in our kids' diets, and follow a few simple guidelines when we're choosing how and what to serve.
Snapshot of a Healthy Snack Habit
Great snacks have these four qualities:
They eat like mini-meals.

That means they have two or three different food groups. You can still keep it simple! Think apple slices with nut butter, a cheese stick with berries, carrots and hummus, or a hard-boiled egg with a banana.

They include fruits and veggies.

Try making this a policy at home, and you'll see it pretty much becomes second nature. On top of providing great nutrition, serving fruits and veggies on the regular helps set up a lifelong expectation for what snacks "should" look like.

They feature whole grains.

Because they're energy-dense, whole grain snacks tend to win kids over easily. The fiber helps kids feel full for longer, so snacks actually do what they're supposed to: provide fuel to get kids through to the next meal.

They happen at predictable times.

You know your kids. Make a plan for when snacks happen based on their energy needs… and try to stick with it! Consistency with snacks helps kids feel nourished throughout the day, and appropriately hungry at mealtimes.
What About Picky Eaters?
I know firsthand how picky kids can be. But I also know they're full of surprises! I can't stress enough the importance of
not giving up
. Keep serving healthy foods in a variety of ways, and keep enjoying those foods yourself.
Even if your kids aren't eating what you offer 100% of the time, they're learning that healthy foods belong on the table, and that people they trust like to eat that way.
We've got lots of resources to help you serve your kids more "growing snacks!" Check out these posts:
15 Healthy After-School Snacks
10 Quick and Healthy Bedtime Snacks
Or scroll through our complete database of healthy snack recipes. Happy snacking!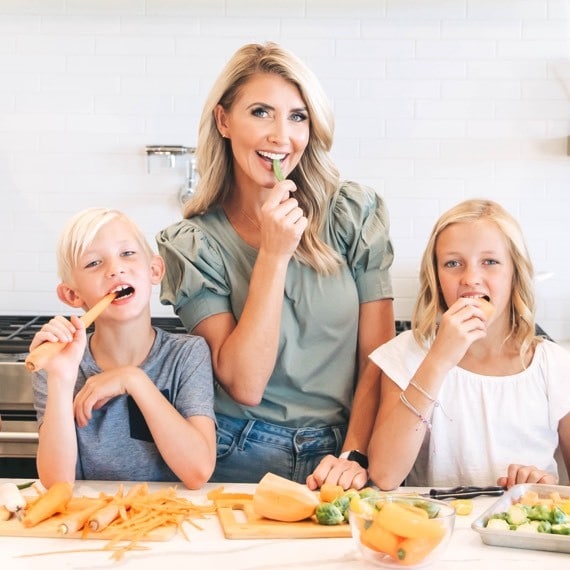 Natalie Monson
I'm a registered dietitian, mom of 4, avid lover of food and strong promoter of healthy habits. Here you will find lots of delicious recipes full of fruits and veggies, tips for getting your kids to eat better and become intuitive eaters and lots of resources for feeding your family.
Learn More about Natalie