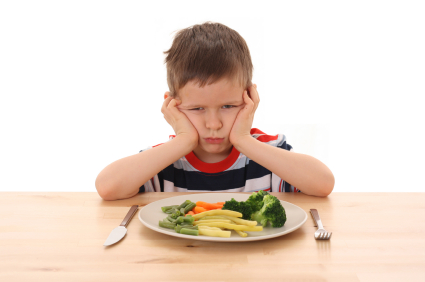 Is this the typical response you get at meal times, "Can I have a peanut butter and jelly sandwich instead?" Or do you simply receive those weird faces? Are you ready to just tear your hair out? Believe it or not, I completely understand.  Even more frustrating is when I get those looks from my husband (Insert my own weird face here)! So we all have them: picky eaters.
Being a picky eater during toddlerhood is just plain normal. As a personal attest, I know it is frustrating and I find myself wanting to just throw in the towel…A LOT! But do I? Once in a while, yes, I do, but mostly I stick to what I preach as a professional. One important piece of advice I stick with is looking at the big picture. With this I am referring to looking at a full week's worth of food as opposed to a single meal or a day's worth of food. Kids have this amazing intuition, so-to-speak, about how much their growing bodies need. (You know, the natural instincts we as adults often ignore!) So, not only are they learning about tastes and textures of foods, they are truly eating the energy they need at that particular time and day. As far as my "selective" 5 year old learning and exploring tastes and textures, I personally like to refer to this: If our kids take years to master writing, why can't we see it in the same way as with food? As described in the book Fearless Feeding: How to Raise Healthy Eaters From High Chair to High School, by Jill Castle and Maryann Jacobsen, "We need to have this same attitude about eating – all kids can learn how to eat well but it takes time, patience and courage to let each child learn at his own pace." Simple, right?
Many are reading that passage saying, "Uh, yeah. Sure." So just how can you get to the point of "fearless feeding?" First, as we do for you here at Super Healthy Kids, you can plan ahead! Through planning, you are armed with a food plan which means you will not be in a bind of time constraints, stressing over what's for dinner to then give in to your finicky eater's preferences. Through your planning, you can also take time figuring out exactly what your child likes, what foods you have served and how many times you have offered that particular food. Earlier this year, we had a guest post from a pediatric occupational therapist who specializes in feeding difficulties and sensory integration. She advises making a list of all foods your child will eat at least 50% of the time. Place these foods into simple categories and then see if there are any patterns in your child's choices. Read more here, where this great plan is detailed. Remember, it does take several times before a child can acquire a true like or dislike of a food.
Here's another simple strategy or thought process to try:
Offer choices: This means offering two different types of veggies, such as "would you like broccoli or cauliflower?" Your child is making the choice in what to eat, as well as how much to eat. You, the caregiver, is providing the healthy food option.
Offer at least one food item you know they will like. This will take the pressure off of you both. He sees a familiar food and you know he will not starve.
Offer your child the pen and paper to do the meal planning. Yes! Especially when there are older children in the household, they will love helping out. Check out our printable section where you will find some fun, kid inspired meal planning pages.
Offer new foods in a fun environment. My kids love at home movie night. So I take advantage of this fun mealtime and use it to offer new foods. I have gotten my daughter to try orange and yellow bell peppers and my son raw cauliflower during one of these moments. Although they still need some exposures, I am thrilled they have at least tried these new foods.
What if your child is older, and the selectiveness persists? This is when your pediatrician may need to intervene because your child may have a sensory, mechanical or medical condition that needs to be addressed. Here's another great guest post of a determined mom of an autistic child finds great success using child-specific tactics to add more nutrient-dense food choices to her son's plate. Read her amazing story here, and see how her methods are similar to some thoughts mentioned previously.
Bottom line:
• Be the role model
• Be patient
• Be consistent
• Be calm
• Be the one who offers nutritious foods
Beautifully stated in Fearless Feeding, "You're doing a good job if your child enjoys eating and is being exposed to a variety of foods." So enjoy your dinner table family time and keep offering those nutritious foods because, our children's "taste buds will grow accustomed to the newer fare." (Dr. David Katz, author of Disease-Proof).
---
Don't miss out- today and tomorrow only get 20% off our meal plan subscriptions and our nutrition plates for kids!  Must use coupon code: New2014