5 Unfounded Fears of Feeding Children (And When Parents Really Need to Worry)
My husband laughs at me when I have to start a sentence with, "So… I have this friend that I know in real life…"  lol, but Maryann Jacobson, Registered Dietitian and author of the fabulous blog, Raise Healthy Eaters, is someone I know in real life!  And she is as lovely as you can imagine.  Now, Maryann has just co-authored a book titled Fearless Feeding, that she's offered to one of Super Healthy Kids Readers as a giveaway.   (see the end for details!)  This is a guest post from the expert herself, Maryann!
From the day children come into the world, uncertainty about nutrition can consume even the most put-together new parent. Are they getting enough? Are they are eating too much? This fear only intensifies over time as children turn picky, don't put the cookies down or eat in a way that makes parents uncomfortable.
As a family nutrition expert, I have found that parents often worry about the wrong things due to a lack of preparation and support with feeding. Straight from my new book, Fearless Feeding, I'm listing the 5 things parents can take of their "worry list" along with red flags that indicate that there might actually be a problem.
1) My Kid is a Picky Eater!
When to worry:
2) Obesity Runs in My Family:
what
how
When to worry:
what
how
3) My Child Doesn't Eat Vegetables:
When to worry:
Fearless Feeding
4) My Child Thinks She is Fat/Skinny/Looks Funny:
When to worry:
5) Everyone's Giving My Child Junk Food:
When to worry:
It's all too easy for normal feeding challenges to become long-term problems when parents don't have the right information, tools and strategies at their disposal.
What worries you most about feeding your child?
BOOK GIVEAWAY- Closed- Congratulations to Shannon B!!
Maryann and Jill's new book, Fearless Feeding: How to Raise Healthy Eaters from High Chair to High School, not only helps parents anticipate feeding challenges, but guides them on how to handle them successfully.  For a chance to win a copy of her book, answer the above question (what worries you most about feeding your child?) in the comments.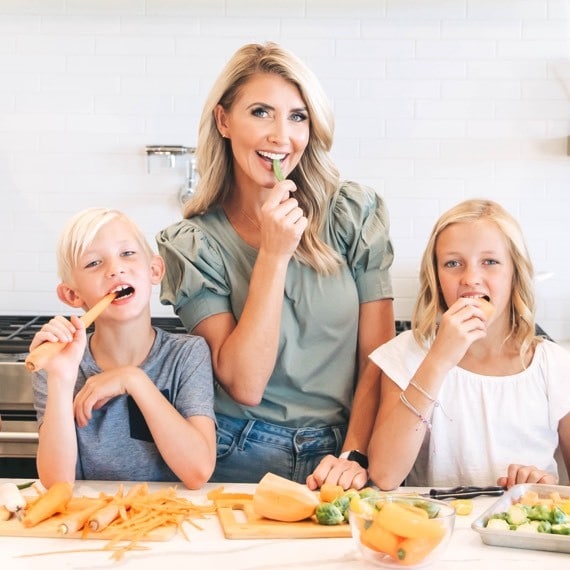 Natalie Monson
I'm a registered dietitian, mom of 4, avid lover of food and strong promoter of healthy habits. Here you will find lots of delicious recipes full of fruits and veggies, tips for getting your kids to eat better and become intuitive eaters and lots of resources for feeding your family.
Learn More about Natalie