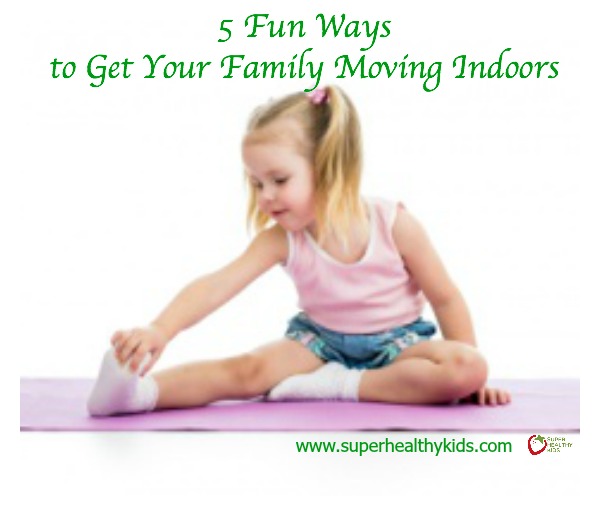 The days are getting shorter. The air cooler. Fall colors are in full effect in many places. Winter will be upon us soon.
While there are fun outdoor activities that can be enjoyed in winter, the simple fact is many families are going to be spending more time indoors in the coming months.
This provides a variety of challenges for parents. Avoiding boredom while limiting screen time is definitely among them for my family. As is keeping our daughter physically active.
Here are five fun ways we get our family moving when we can't be outdoors:
The Animal Game – We have a game we play with my daughter that she loves. And it is great for getting us up and moving together. We all take turns asking the question, "Can you (action) like an (animal)?" For example, "Can you run like a cheetah? Can you hop like a frog? Can you slither like a snake?"
Twister – We first introduced our daughter to the Twister when we had to keep her up all night in advance of an EEG. It was a hit. Now, when we find we can't get outside to play, she loves to pull out the mat and start a game.
Family Dance Party – There is nothing I love more than a spontaneous dance party with my daughter. We have built a playlist with family friendly music perfect for getting up and moving around to. The only rules? Have fun and move your body!
S-T-R-E-T-C-H! – My daughter started gymnastics this fall and is learning the importance of stretching before exercise. There are many other benefits to stretching. I often will do stretches with my daughter to help her wind down for bedtime. Similar to the animal game, I say things like, "I can curl up small. I can stretch up tall. I can stretch to my right. I can stretch to my left…"
Get Your Wiggles Out – This is another one that is great for moving around. I have my daughter wiggle parts of her body individually, and then all together. Legs. Arms. Fingers. Toes. Head. Bottom (guaranteed to get a giggle from her with a hilarious little dance). Then she has to stand still like a statue. She also loves when I sing the 'Hold Still' song from Yo Gabba Gabba. Not my favorite kids' show, but the game is a hit.
Our family lives in NE Florida. So we are fortunate to be able to get outside and be active most of the year. However, there are still plenty of times when we find ourselves indoors due to weather.
It is important to my husband and I that our daughter enjoys mental and physical activity each day. When we can't go for a family walk, ride bikes or hit the playground at the park, we try hard to get up and move in the house. For more toddler playtime ideas, you can visit WhatToExpect.com.
A little bit can go a long way. And it starts good habits early. It's also good for us to remain active. After all, we have to stay fit enough to be able to keep up with her!
Of course, we also enjoy spending time on a rainy day curled up on the couch with a healthy snack to watch a family movie together. After all, the body needs rest, too.
How does your family stay active when shut in? In what fun ways do you get up and move your bodies together?
Elizabeth Flora Ross is a freelance writer for WhatToExpect.com, living in Florida with her husband and daughter. You can find her on her personal blog, The Writer Revived. She is also the creator of The Mom Pledge, an anti-cyberbullying campaign aimed at moms.