When your kids need snacks, unless you are in the mood for some kitchen time, these no-prep snacks are your answer!
Kids need snacks. At meal time, it isn't likely they are going to eat very much food at one sitting. In fact, chances are they may eat very little. We look at snacks as a way to fill the gap in essential nutrients they need. When my kids say they are hungry, we assess together what they are missing from their diet that day. We will often say, "Have you had any veggies today? Have you had any protein today," etc. This directs where our snacks will go. If they say they haven't had any veggies, the likely thing to do will be to eat some vegetables for their snack! We've done this for years. In fact, it is one of the first posts I ever wrote on this blog here.
So, fast forward to now, my kids are very independent. They get most of their own foods. I find it helpful to give them ideas however, and to have the food in the pantry or fridge for snacks that I approve of. Some of my kids favorite snacks, are also some of the easiest ones! These snacks literally require no recipe, and very little prep. These are some of our faves:
Carrot Sticks and Laughing Cow Cheese
We've never been sponsored by laughing cow- haha. That isn't why I recommend this cheese brand. I recommend it because we are addicted to it! Truly, super yummy when dipped with carrot sticks.
Peanut Butter and Apples
Whether you make your own peanut butter, make a peanut butter dip, or just dip straight out of the jar, peanut butter is a great snack paired with apples. It's a great source of protein, fat and fiber!
Hummus and Carrots/Celery
Make your own hummus, or buy it! Either way, we love hummus as a good source of protein. Here is the recipe we use for hummus.
Rye Crackers with String Cheese
Bananas and Pretzels
And, it's OK to make a snack fun! So many parents complain they don't have time to make food fun, but I'm certainly not here to tell you to make time. What I will say though, is the kids enjoy doing this! You don't have to spend time while they watch a TV show to prep the food for them. Show them this picture below, and let THEM get to work! I promise, they'll enjoy making and eating what they create!
Do your kids have a favorite snack?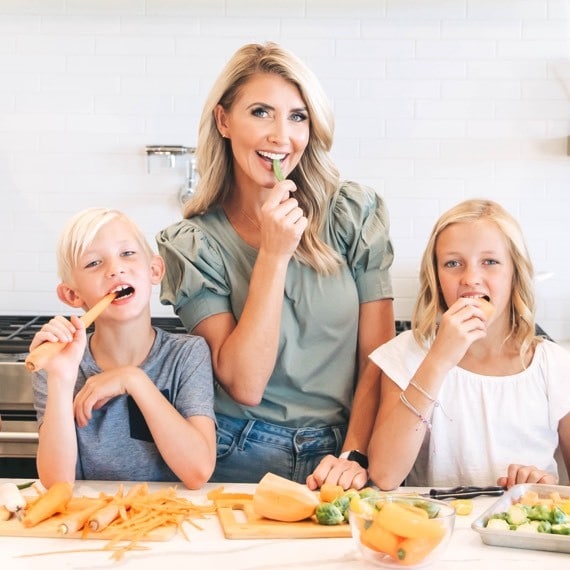 Natalie Monson
I'm a registered dietitian, mom of 4, avid lover of food and strong promoter of healthy habits. Here you will find lots of delicious recipes full of fruits and veggies, tips for getting your kids to eat better and become intuitive eaters and lots of resources for feeding your family.
Learn More about Natalie