5 Easy Ways to Rock the Lunch Box Without Adding Stress
It's a glorious time of year that feels a little bit like January with it's fresh new habits, routines, and desire to do just a little bit better. If you are like me you are getting back into the groove of school schedules and activities and finding a little more motivation to think ahead and use your time wisely. There's so much to get done in those few hours the babies are at school!
The ladies at here at Super Healthy kids have you covered when it comes to meal plans, but have you thought much about your kid's school lunches?
Don't get caught in the early morning crazies without a plan. Here are 5 ways to make getting back into your school lunch making groove easier. There are a million kinds of lunch boxes, bags, carriers, bentos, thermoses, and that many ways or more to fill them. Let's be honest though, I don't have the time to handcraft the Mona Lisa out of vegetables every morning and I bet you don't either. The thing to focus on is the kind of foods you are packing; you don't want that lunch box to come back as full as it left.
1. Plan ahead
If you meal plan for supper then take the same approach for lunches too! Knowing what you are making takes out some of the stress because the choosing and decision making is already taken care of. My kids don't pack a lunch every day, so we sit down with the monthly lunch calendar from school and they decide which days they'll eat at school and which days they'll bring something from home. My sister lets her kids pick one school lunch a week and she packs the rest of the week. I plan a month at a time, you might like to plan a week or two at a time, and it doesn't really matter as long as it gets done. It often makes sense to do your planning around when you'll be grocery shopping. Do you shop once a week or once a month? Planning as often as you shop works well for lots of families.
After you've planned your lunches, make a shopping list to go with it.
2. Think Outside the Sandwich
Stuck in a lunch rut or have a picky eater? No problem! Super Healthy Kids has loads and loads of ideas for lunches that don't include a traditional sandwich. These quick and easy kid-approved pasta salads look fabulous don't they? When I stop thinking of lunch as one big meal and think of it in four little sections: protein, whole grains, fruit, vegetable, it's a lot easier.
One of my kids' favorite lunches we call "Pick-n-Poke". They pick a few things from the above categories, I chop them into chubby cubes, and then we serve them with a toothpick. It's always a hit. Why is eating off of a toothpick so much fun?!
In need of some ideas? Rockthelunchbox.com is a great resource. You can search in categories like nut-free, gluten-free, and vegetarian. The website has a place where moms have submitted pictures of the lunches they make (great for new ideas) and you can submit your own too. The more the merrier in this case.
3. Choose your "Conveniences" Thoughtfully
Sometimes life gets away from you and that is ok. New babies, unexpected changes, moving, and other life events happen in the middle of the school year, and sometimes you are just tired. Having a few pre-packaged goods on the shelf can really take the stress out of packing a lunch when you didn't have as much time to plan and shop. Rock the Lunch Box is sponsored by a few great companies: Rudi's Organic Bakery, Annie's, Applegate, and Honest Kids. These are great places to start. Whole grain bread, organic fruit snacks, individual juice drinks (we love the lemonade one!), and nitrate-free meats are all great to have on hand. You can download free coupons from rockthelunchbox.com for all of these companies.
Sandwiches
4. Prep Ahead
When you have a plan and know what you are making, you can prep ahead! Over the weekend get the kids together and let them help prep things like fruits and veggies. When things are cut up and ready, mornings go much smoother. Not every lunch needs to be terribly cute and intricate but a simple cookie cutter or two can be a lot of fun. My kids love fun shaped fruits and veggies. They enjoy making them as much as they like to eat them.
5. The Internet is your Friend
Pinterest changed the world one pin at a time. Super Healthy Kids changed how you feed your babies one recipe at a time. Let Rock the Lunch Box change lunch, one box at a time. This is the third school year I've been tapping into the resources at www.rockthelunchbox.com; I'm always inspired when I'm there. You can even use the site to print free customization lunch box notes! How fun is that? When I plan ahead, I print off a month's worth of notes then add a little handwritten extra daily, depending on what's going on in their lives. How easy is that? My kids love getting something personal in their boxes each day, a little piece of home away from home.
There you have 5 simple ways to make packing healthy lunches that your kids will love painless. It doesn't have to be hard or boring, it can be fun!
Melissa cooks, confesses, and corrals chickens and children at Bless this Mess, where you can find healthy recipes (with some simple desserts included), a peak at her hobby farm, and the joys of raising five little ones, eight years old and younger. She's got a whole lot of mess to bless!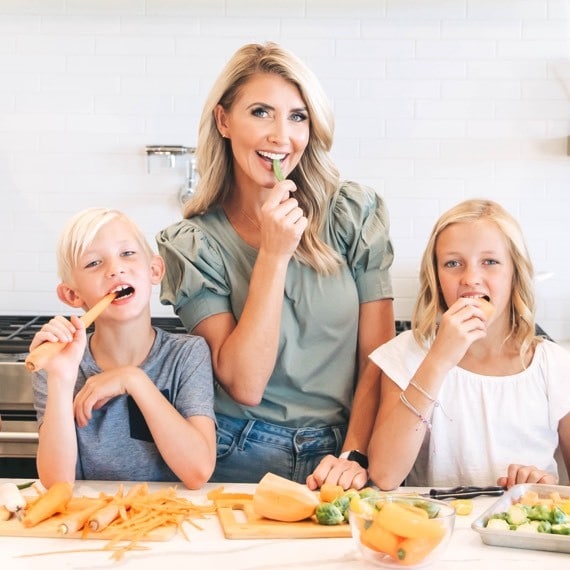 Natalie Monson
I'm a registered dietitian, mom of 4, avid lover of food and strong promoter of healthy habits. Here you will find lots of delicious recipes full of fruits and veggies, tips for getting your kids to eat better and become intuitive eaters and lots of resources for feeding your family.
Learn More about Natalie