4 Spooky Ways to Play with Food This Halloween
Healthy Halloween Snacks!
Halloween gives us a great excuse to play with our food. Carrots can become fingers, while blueberries can take on the look of eyeballs. With a little creativity, you can turn ordinary (dare I say, sometimes skipped over!) fruits and vegetables into the star of the show at your next Halloween party.
So, think like a kid and bring on the Halloween fun with these spooky, yet perfectly healthy, Halloween treats.
Carrot and Parsnip Fingers
You'll need:
Carrots

Parsnips

Almonds

Bell peppers

Vegetable peeler
To attach the fingernails, simply spread or pipe a small amount of hummus to the tip and stick on. I like to stick them in a bowl of hummus "mud." Note: Parsnips are safe to eat raw, but they are generally served cooked, so choose small tender parsnips for this dish or stick to carrots.
Alien Snap Pea Smiles
You'll need:
Snap peas

Cream cheese

Capers

Optional: chives, red bell peppers, radishes
To make Alien Smiles, use a paring knife to cut a slit along the back seam of a snap pea and leave the peas in place. Making the teeth is simple: pipe softened cream cheese into little balls along the inside of the pea, and then use a finger or paring knife to smooth out each ball into a flatter tooth-like shape. You can add eyes (I used more cream cheese to attach capers), chive antennae, or even add red bell pepper or radish tongues.
Spooky Eyeballs
You'll need:
Large red seedless grapes

Blueberries

A sharp paring knife

Toothpicks snapped in half
Steps:
Starting from the stem end, begin peeling sections of the grape skin from the flesh. The trick to the "veiny" look is to peel the skin in an outward motion so that it will leave a shredded look toward the base of the grape.

Using the tip of the knife, carefully carve out a circular chunk from the stem end of the grape about 1/4″ deep. This will be where you insert the blueberry "iris."

Choose a blueberry that will fit in the hole you've just carved, cut it in half across the middle, leaving the blossom end intact, which will simulate the retina of the eyeball.

Place the blueberry into the indentation you carved into the grape and insert a toothpick through the middle of the blueberry, pushing until the toothpick is no longer visible.

Display your eyeballs in a glass of ice water, fruit juice, or simply lying in a bowl. Prepare for shocked children!
Goblin Pumpkin Bites
You'll need:
1 1/4 c. dates, chopped

1/4 c. pumpkin puree

1 T. chia seeds

1 t. ground cinnamon

1/2 t. ground ginger

1/4 t. ground nutmeg

1/8 t. salt

1 c. old-fashioned oats

1 c. unsweetened coconut flakes, toasted

1 c. pumpkin seeds, toasted
Steps:
Combine the dates, pumpkin puree, chia seeds, cinnamon, ginger, nutmeg and salt in a food processor. Process until smooth.

Stir in the oats, coconut flakes and pumpkin seeds. Cover and refrigerate until firm.

Shape spoonfuls of the mixture into 1" balls.

Create goblin faces using pumpkin seeds, bits of date, or even chocolate chips, and store in the refrigerator until it's party time.
Guest post by Allison Stowell, MS, RD, CDN, dietitian for Guiding Stars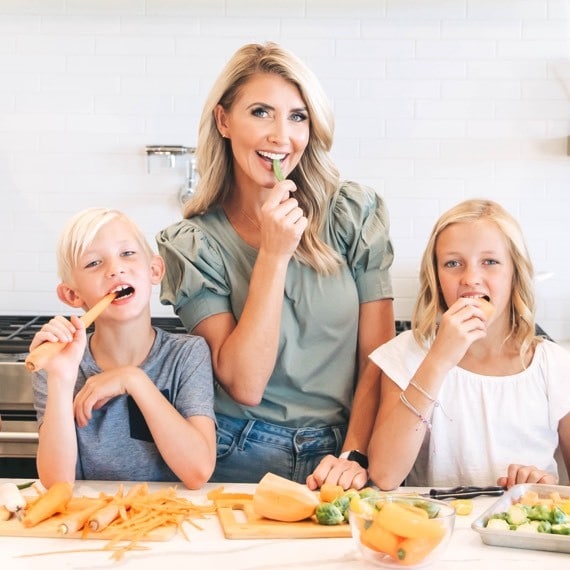 Natalie Monson
I'm a registered dietitian, mom of 4, avid lover of food and strong promoter of healthy habits. Here you will find lots of delicious recipes full of fruits and veggies, tips for getting your kids to eat better and become intuitive eaters and lots of resources for feeding your family.
Learn More about Natalie