There are lots of spine-chilling frights that we parents may enjoy during Halloween season, such as terrifying decorations, spooky costumes, and haunting music, but a frightening Halloween staple that many parents would like to limit is sugar-filled candy and treats.   Sure, in moderation, candy can fit into the diet, but most of us feel as if we are on candy overload after all of the Halloween festivities.  So when it comes to your contribution to the Halloween class party or to just celebrating the joy of the season in your home, is it possible to have healthy Halloween treats and avoid the candy aisle?  Absolutely!  We have a list of 30 ideas of how you can avoid candy and other sweet treats.
Ideas for parties or for Halloween fun at home
Pear skull. Pear, blueberries, and an almond slice…all healthy ingredients made into a Halloween treat.  Yummy!
Healthy Halloween mummy tray. For little ones, you can cook the carrots until they are to the desired softness then add the cheese for a yummy but not-too-scary mummy encounter.
Cheese and pretzel broomstick. We made these for a Halloween birthday party, and they disappeared.  Feel free to substitute a thin carrot or celery stick for the broomstick.
OUR LATEST VIDEOS
Halloween pumpkin oranges. For our Halloween-themed party, we used these Halloween pumpkin oranges to make a pumpkin patch on a tray.
Roasted red pepper deviled eggs. The egg mixture is naturally colored by using roasted red pepper.  For our party, this was actually the first tray of food that vanished.
Banana ghosts. These ghouls take mere minutes to scare up, have only two ingredients, and require no cooking.
Zucchini eyeballs. Eyeballs to thrill Halloween enthusiasts and vegetables to thrill you-a winning combination.
Candy corn veggie tray. The colors on this tray are the same vibrant colors of a candy corn but are made with yellow bell pepper, carrots, and cauliflower.  Serve it with a dip or a side of hummus with carrot fingers (recipe link found below).
Hummus with carrot fingers. Hummus is a wonderful snack, and combining it with creepy carrot fingers gives it a Halloween touch.
Mummy toast. This toast is a fun way to incorporate Halloween into lunch or snack.
Candy corn fruit cocktail. Pineapple and oranges topped with yogurt is a festive way to plate up lovely fruit.
Cheese monsters. It's shocking that you can create such a fabulous Halloween treat using Babybel cheese rounds as your only ingredient.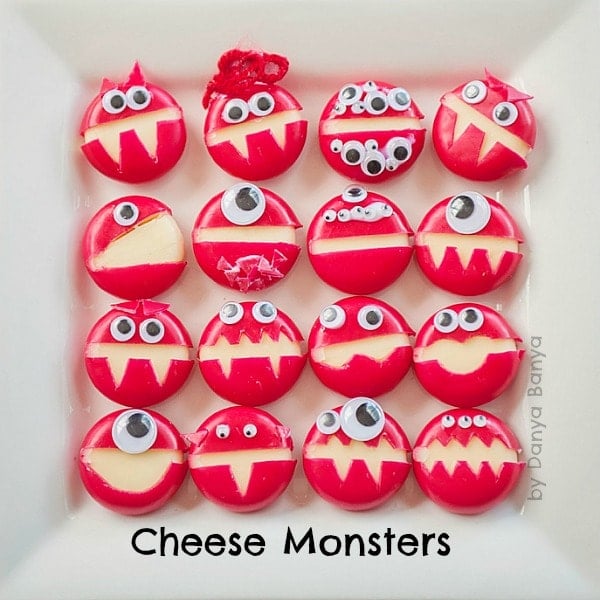 7 grain biscotti ghosts. These ghosts are simply adorable and healthy for a fun Halloween treat.
School approved Frankenstein. A monster made of grapes adds whimsy to your fruit snack.
---
Ideas for non-candy trick or treating (or as favors/gifts for classroom parties):
Jack-o-lantern oranges. Use cuties or other oranges for a wonderfully healthy and festive fruit.
Jack-o-oranges. All you need are some individually packaged mandarin orange cups and a black sharpie.
Cereal bars. You can hand out an assortment of cereal bars with Halloween jokes attached.
Applesauce monsters. Dress up regular applesauce into spooky disguises.
Halloween fruit pouch
. I am not sure that a fruit
pouch
could be cuter than this fruit pouch mummy.
---
Non-food treats- Any of these can be combined into treat bags.
Halloween stamps
Coloring sheet and a few crayons in a goodie bag
Glow sticks, wands, necklaces, bracelets
Bubbles
Tattoos
Slap bracelets
Mini coloring book or activity book
Playdough. You can make homemade playdough or buy it in small containers.
Halloween stencils
Bookmarks
Halloween pencils (or scented pencils) and erasers
What's cooking in your cauldron this Halloween?  Hopefully some of our healthy Halloween treats have crept into your treat list.