Veggie Enchiladas

SERVES 4
Ingredients
1/2 cup, pieces or slices – mushrooms, white
1/2 cup chopped – carrot
2 clove – garlic
2 stalk – green onion
1/2 cup – edamame, shelled
1/2 cup – corn, canned
1/2 cup – black beans, canned
1/2 cup, chopped or sliced – tomato, red
1/2 cup – bell pepper, red
6 medium – tortillas, corn
1/2 cup – enchilada sauce
1 medium – avocado
1/2 cup – cilantro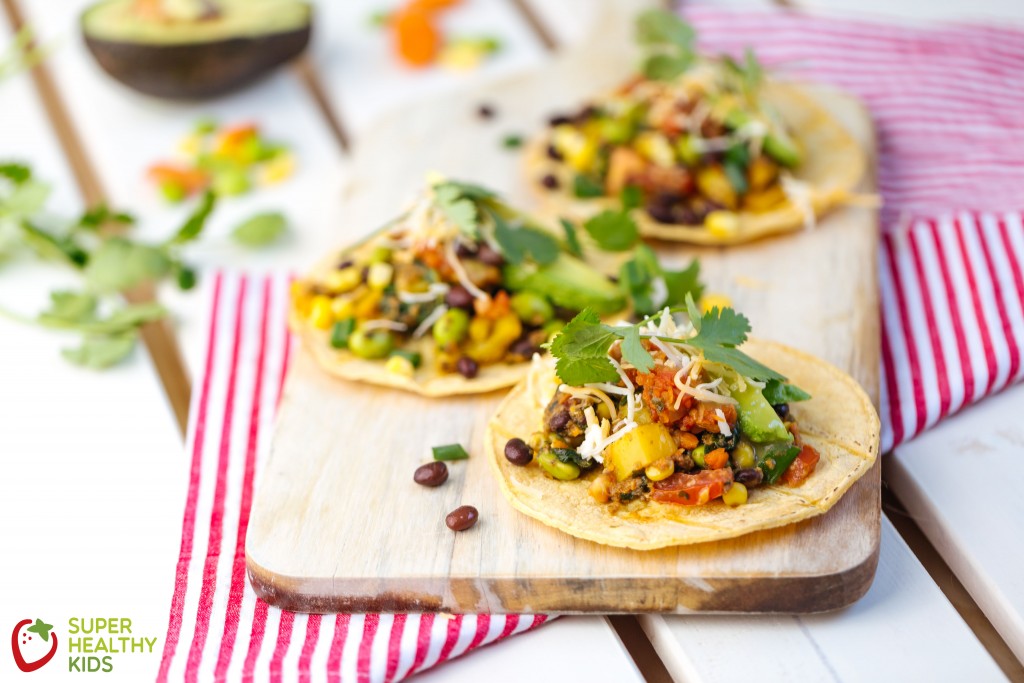 Directions
Pulse together in the food processor, mushrooms, carrots, garlic, and green onions just until combined but still slightly chunky.
Then saute together with edamame, corn, black beans, tomato and bell pepper.
Place filling on corn tortillas, drizzle each with green enchilada sauce and top with a Mexican cheese blend.  Place on a baking sheet and bake in a 375 degree oven for 5 minutes or until the cheese is melted.
Top with sliced avocado and cilantro.  Serve warm.
For a more classic version – place filling on whole wheat tortillas and roll up.  Place rolled tortillas in a baking dish and drizzle with enchilada sauce and cheese.  Bake in a 375 degree oven for 5-7 minutes or until cheese is melted.  Top with avocado and cilantro.
FIND MORE RECIPES AT SUPERHEALTHYKIDS.COM